First class of graduates and their career paths: Part 2
May 23, 2019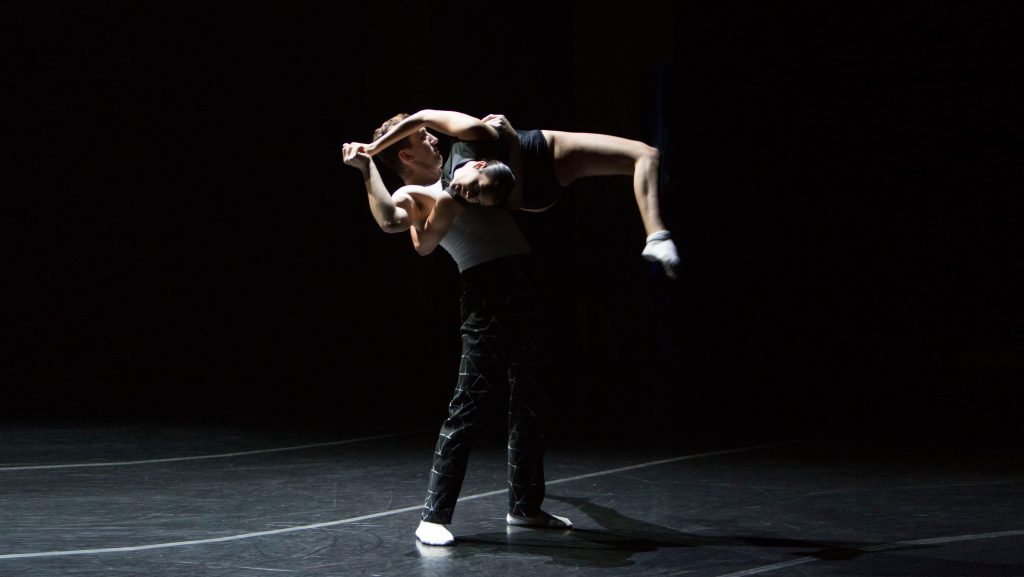 The graduates of the inaugural BFA class at the USC Glorya Kaufman School of Dance have a diverse set of career paths ahead of them. Learn more about each graduate, where they're going next, and the goals they aim to achieve in this and two other posts (parts one and three).
Concentration in Dance Performance
While at USC Kaufman, Allen performed at the Academy of Country Music Awards show and in a Billie Eilish music video, among others. She also discovered a passion for event planning. Her senior project involved choreographing and curating a house party for over 100 people. Allen's career goals include traveling the world within a company, performing repertory and new creations on as many stages as possible. She also plans on touring with musicians and providing dance as an outlet to the Los Angeles community.
"I work so that my community thrives," she said. "Dance has changed my life for the better and I want my community to experience its power and grace."
Concentration in Choreography for Stage & Cinematic Arts
In the past year, Balka has found a love for nonprofit development. He interned with Gibney Dance and Dancers Responding to AIDS and raised over $2,000 for DRA by producing a benefit show with the SC Choreographic Collective. As he begins to audition for dance companies, he hopes to one day transition from contemporary dancer to choreographer and director. He hopes to pursue nonprofit development simultaneously. Balka aims to provide a platform for arts advocacy by making resources available to underprivileged students of the arts.
"Throughout my career, I want to blend passions of performance, collaboration, aesthetic and activism into thoughtful narratives," he said.
Created his own concentration in dance, new media, and technology
Daw recently became an apprentice for Jacob Jonas the Company, and through several acting engagements is now SAG-eligible. Studying film from many angles has informed Daw's career goals. Most notably, he hopes to act and dance in film and television and also dance for a company. This summer, he will work with JA, Kenny Ortega and more.
"I plan on creating short form dance content while also pursuing work on both the screen and the stage," he said.
Concentration in Choreography for Stage & Cinematic Arts
Epstein took advantage of the undergraduate courses at USC Thornton, finding that his affinity for tap dancing could inform rhythms he created on the computer. He served as an audio collaborator/consultant on six of his colleagues' senior projects. In the near future, he will work as the production coordinator for Laguna Dance Festival's Annual Gala, an accompanist for the Paul Taylor Summer Intensive, and an audio consultant on the Movers Digest podcast. Furthermore, Epstein aims to create participatory audio-visual experiences that rupture sound space using music, text and voice.
Epstein hopes his career will lead him to "becoming a self-sustaining movement artist focused on community building, gratitude and the beauty of the human experience."
Created his own concentration in business
Minor in Marketing
Foley found a community in the theater at USC, where he began in an entry-level position and worked his way up to the executive level in event venue management. Meanwhile, he worked with several teachers on dance and marketing projects. He also shot for the cover of a Parisian magazine, and worked on a marketing plan for two Universal Studios properties. Currently, he is working with Vice Dean and Artistic Director Jodie Gates on Laguna Dance Festival's marketing plan.
"I want to be a liaison between the dance and marketing worlds," he said. "I'm focusing my career toward helping the dance world better understand how to utilize digital marketing to further their reach and drive sales."
Created his own concentration in multimedia performance
Guthier's senior project, SandBox (made in collaboration with Epstein), exemplifies his interest in multimedia work. Both physical and digital elements surround his work in choreography. Guthier will continue in this vein as a working artist. Above all, he hopes that his collaborators always feel appreciated, that they are not denied their subjectivity.
"I aim to honor the life I've been given by sharing the beauty of the arts with others," he said.
Concentration in Dance Performance
Minor in Nonprofits, Volunteerism and Philanthropy
Master of Public Administration, emphasis on Arts Leadership and Local Government
While at USC Kaufman, Hernandez-Farella completed a BFA, a minor and an MFA, all while working as a guest artist with contemporary and ballet companies across the country. They will join Ballet Hispánico on their national and international tours this season. Hernandez-Farella hopes to sustain a long performance career as a professional dancer. Eventually, they will move toward arts leadership or higher education administration.
"I hope to help alter stereotypes of the uneducated dancer by using my BFA and MFA degrees to influence dance academia and reinvigorate the archaic dance educational methods in our world," they said.
Concentration in Dance Performance
Minor in Business Finance
Hetzer's interdisciplinary studies in dance and business made him a competitive candidate for scholarships at USC, earning him awards from Town and Gown, Trojan League of South Bay and more. He also danced leading roles onstage with Festival Ballet Theater. Hetzer will join Oklahoma City Ballet as a corps member this season. Later in life, he hopes to complete his MBA and follow a career path where he can apply his knowledge in business to the arts.
"Through my multifarious experiences, leadership positions and overall work ethic, I will be driven to expand my psychological and physical capabilities as a dancer and individual," he said.
Created her own concentration in body, movement, and somatics
While a student at USC Kaufman, Mallaney earned her 200-hour yoga teacher certification, a Yin Yoga and a Restorative Yoga certification, and a Level 1 Reiki Master certificate. She also presented her first solo show—a photography exhibition—in the spring. Mallaney's passions for somatic work, yoga, energy healing, dance and photography allow her a plethora of career options. Along with freelancing in each of these fields, she looks forward to exploring how they blend.
"I'd like to work with artists of all mediums, to teach dancers the mindful practices I've learned through work in somatic and Eastern energetic fields of study, and to see where all of my interests take me," she said.
Created his own concentration in business/entrepreneurship
Montelongo's affinity for creation led him to choreograph for an experimental theater play titled Tongues/Savage Love, then to become one of the founding members of the SC Choreographic Collective. These interests culminated as he produced, wrote, choreographed and danced in his own senior project called ROOTED. Montelongo first hopes to dance on the concert stage and develop his artistic potential. Also on his bucket list is opening a dance school and company in his home country, Mexico, to increase access to the art form. Finally, he wants to facilitate and program original multimedia productions in his own theater.
"I strive to paint smiles and to soften hearts through multimedia spectacles that explore and redefine the purpose of spectacle," he said.
Concentration in Dance Performance
Minor in Political Science
While studying at USC Kaufman, Wilkerson also completed a minor in political science, finding ways to weave her dancing narrative into today's political questions. In defying the inequality that bound many black ballerinas before her, Wilkerson dreams of becoming the realization of the 21st century ballerina. She will dance with Ballet Hispánico on their 2019-20 tour.
"I hope to reflect anomalous passion for movement and artistic endeavors seemingly opposed to my physical makeup," she said.
---
By Celine Kiner