Announcing New Faculty, Artists in Residence and Fall 2022 Repertory
September 1, 2022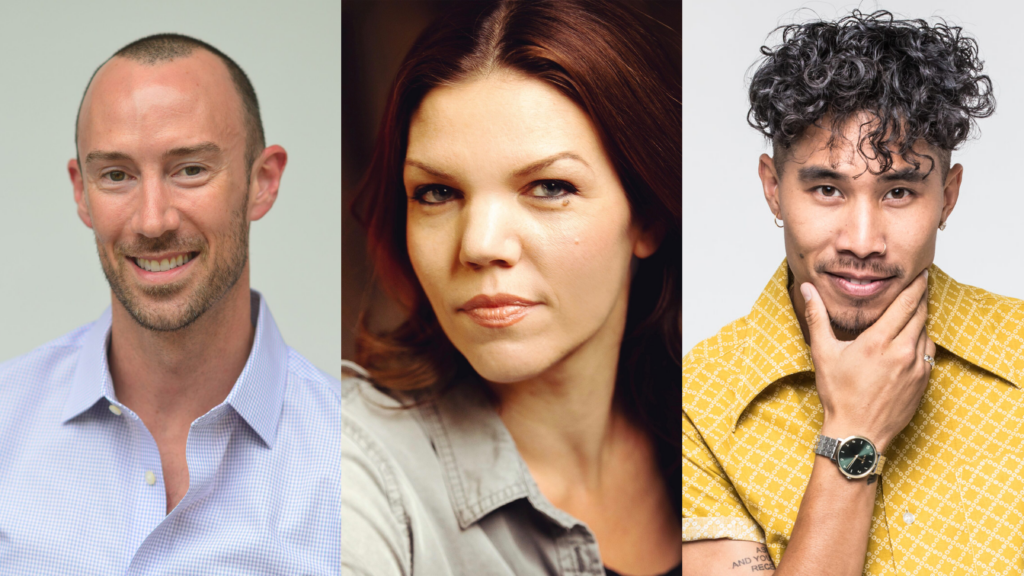 This coming semester, the USC Glorya Kaufman School of Dance offers students opportunities to engage with many renowned artists. Welcoming two new faculty members, James Ady and Kelly Alvarez will work with BFA and elective students, respectively. New Artist in Residence Max Pham also joins USC Kaufman this fall.
For upcoming fall performances, BFA students of all classes will learn repertory from new Artists in Residence and current USC Kaufman faculty.
James Ady
Ady hails from Clinton, Iowa and graduated from the North Carolina School for the Arts. He also trained at the San Francisco Ballet School. Ady danced numerous lead roles at Pennsylvania Ballet and American Ballet Theatre.
After retiring in 2008, Ady graduated from Boise State University in 2012 with a degree in journalism. In 2013, Ady became Rehearsal Director with Ballet Memphis. This position gave Ady the opportunity to develop his pedagogy and combine various aspects of his dance experience, while teaching daily technique class for the company.
In 2015, Ady worked as assistant professor and lecturer at the University of Utah in Salt Lake City. While there, he taught all levels of ballet technique, partnering, men's and women's variations, pointe, and men's technique class. Ady moved to Los Angeles in 2018 and is currently teaching at the Colburn School and Westside School of Ballet.
Ady will be teaching ballet to BFA students this semester.
Kelly Alvarez
Los Angeles native Alvarez graduated from The University of the Arts in Philadelphia as a BFA student. She received her MFA in Dance from The University of California, Irvine. Alvarez has danced in original works by Curt Haworth, Winifred Harris, Paula Present, Rei Aoo, Deborah Brockus, Chad Michael Hall and Manfred Fischbeck, among others, as well as appearing in commercials and music videos.
An avid teacher for over 25 years, Alvarez has taught dance and Pilates throughout the U.S. and is certified in the ABT® National Training Curriculum. Since receiving her Core Conditioning certification in 2007, Kelly has taught Pilates and worked as a physical therapist's aide. This setting cultivated her interest in injury prevention and rehabilitation.
Alvarez has taught at Loyola Marymount University, Cypress College, The University of California, Irvine and The Edge. Alvarez is currently on faculty at the American Ballet Theatre William J. Gillespie School and Glendale Community College.
This semester, Alvarez will be teaching ballet elective classes.
Max Pham
Born in Texas but raised in Boise, Idaho, Pham has been touring and performing live shows for the majority of his professional career. He has worked with artists such as Justin Timberlake, Ariana Grande, Rosalia and more, making appearances on stages such as Super Bowl LII, AMA's, Billboard Music Awards, and The Grammys.
Pham is currently transitioning his career from dancer to choreographer. He has been working with a handful of up and coming musical talents including rapper and singer Milli from Thailand, Disney actress and singer Meg Donnelly, and young Palestinian star Elyanna.
Fall Repertory
This fall, BFA students will work with USC Kaufman faculty and new Artists in Residence on new works and existing repertory.
The incoming Class of 2026 will learn a new work by Associate Professor of Practice Jennifer Lott. The Class of 2024 will work on a new creation with Associate Professor of Practice Saleemah E. Knight.
Members of the Class of 2025 will work with new Artist in Residence Peter Chu assisted by Jenni Gordon on a new work. The Class of 2023 will learn a new creation with new Artist in Residence Yin Yue.
In addition, members of the Class of 2025 and the Class of 2026 will have the opportunity to audition for a piece by Monica Bill Barnes. This will be performed on September 29 in a show presented by Visions and Voices.
The Class of 2023 will also work with lecturer Fiona Lummis to stage an excerpt from Jiří Kylián's Whereabouts Unknown, to be performed during Trojan Family Weekend October 6-9.
Lastly, there will be two pieces open for all four cohorts to audition for. New Artists in Residence Dani Rowe, ballet, and Max Pham, commercial hip-hop, will both create new works with the BFA students.
USC Kaufman Artists in Residence are supported in part through generous funding from The Choi Family Artists in Residence Fund. Additional support for visiting artists provided by Katherine and James Lau. For more information about Artists in Residence, watch the video below: