Student Blog: Working with Kara Wilkes
September 29, 2021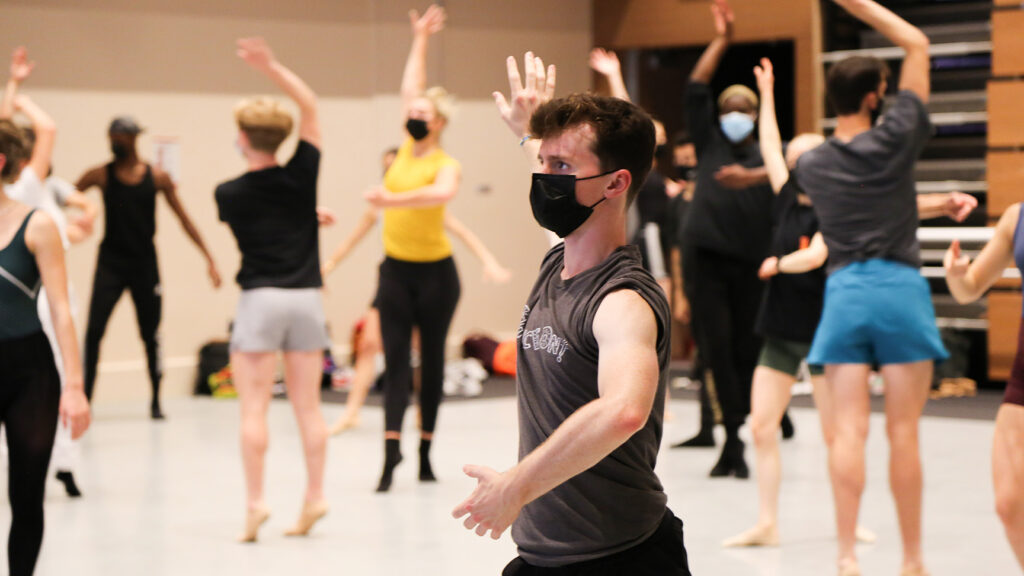 One of the most rewarding and thrilling aspects of being a dancer is the chance to perform on stage for live audiences. As a BFA student, I work diligently in my daily technique classes at USC Kaufman to refine my skills and artistry. While endless information can be gained from studio practice, performing on stage allows me to apply my knowledge and grow in new ways. Given the circumstances this past year, USC Kaufman had to reimagine what a dance performance looks like. During this time, I was able to be a part of several creation processes, including those with Saleemah E. Knight, Doug Varone, and Dwight Rhoden, and perform repertory virtually.
Preparing for audition season
As I began to prepare for our next steps after graduation, I realized I needed additional live performance experience and footage to use for our reels. Fortunately, USC Kaufman was able to address these concerns this semester in our Repertory and Performance class. This semester, the upperclass students will be working with three choreographers to learn three solos that range in dance styles. All of these solos will be performed in our Large Performance Space at the Glorya Kaufman International Dance Center and will be professionally filmed for our personal use.
Diving into the details
The first choreographer we have been privileged to work with is Kara Wilkes. Wilkes is the current rehearsal director for Alonzo King LINES Ballet and has been able to teach us through Zoom from Oakland, Calif. On our first day, Wilkes spoke with us about her inspiration for the solo and her intentions for our time together. We then dove right into learning the movement phrases she had choreographed. We would often stop to analyze details and artistic nuances as the rehearsal progressed.
While Wilkes is specific with her choreography, she also gives room for exploration and individual expression. Even though Wilkes was teaching us virtually through Zoom, she made a great effort to see each dancer and get to know us. We would often break up into small groups so that she could watch us dance with more space. She also encouraged each of us to partner up with another dancer in the room so that we could give one another feedback on the solo and stay engaged in the rehearsal process.
Getting ready to film
Since Wilkes only worked with us for one week, we had to learn all of the choreography for this solo rather quickly. On top of this, learning through Zoom can require additional focus and energy since the instructor is not physically in the room to make real-time corrections or notice when we need further clarification. Despite the time crunch and challenges, Wilkes made sure to carve out time in our rehearsals for ample breaks and mental processing. Once we finished the solo and rehearsed it in our small groups, I was beginning to feel confident in the movement.
We concluded our time with Wilkes by doing the solo for her one at a time. As scary as it might seem, she was incredibly encouraging and kind. In doing this, every dancer was able to get individual feedback on the solo for them to work on before the filming process. Overall, our time with Wilkes has been both informative and enjoyable. I am looking forward to performing her work, as well as working with the two remaining choreographers.
---