The USC Kaufman Community
January 2, 2020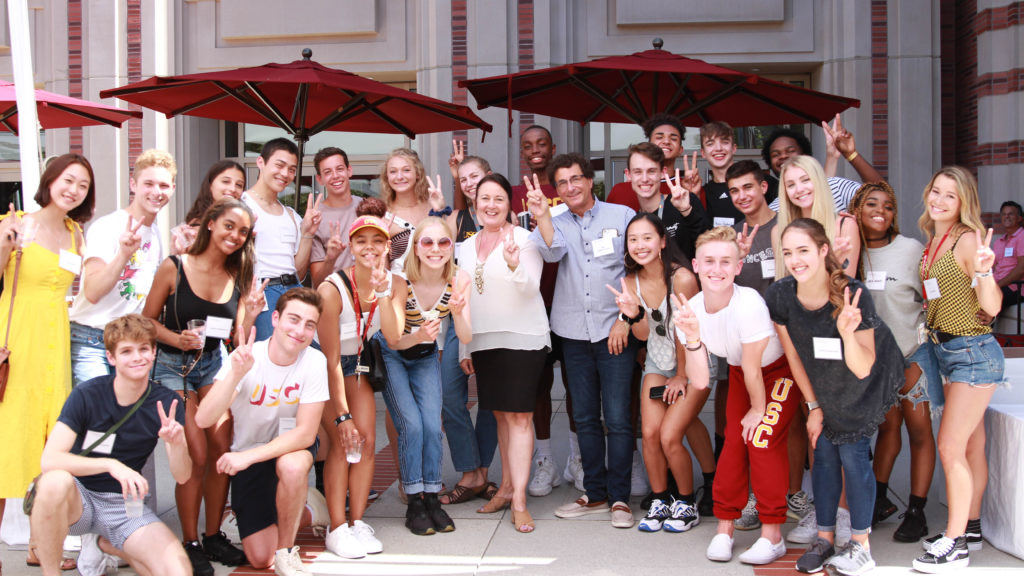 At my USC orientation, the orientation leaders kept telling me that USC would soon begin to feel like home. I believed them in a sense; my fellow classmates and I were starting a new chapter, and I expected that to some degree. I was ready to feel "at home" at USC, and even more excited to make friends that would last a lifetime. But I had no idea just how close I would be with this new family. Now, in my third year here, I can say that my community has created such an inclusive and inspiring home.
A community for all classes
Findlay McConnell (BFA '23) said it best: "when I walked through the door on my first day of classes, I knew I was going to fall in love with this school. My class and all of the upperclassmen have welcomed me into their extended family. They've been nothing but warmhearted and helpful." McConnell was able to feel that sense of community in his first few weeks at USC Kaufman.
"Community is the foundation of the program," he added, "and there is an emphasis on caring for each other. To say I'm grateful is an understatement, and I can't wait for the rest of the year in my brand new community."
"I'm able to use my peers as a resource because I am constantly learning from my them," said Colin Heino (BFA '23), also a member of McConnell's class. "It's energizing to see others with the same drive and passion that I have."
Kaylin Sturtevant (BFA '20), who is in her fourth year at USC Kaufman said, "the USC Kaufman community is composed of some of the most intellectual thinkers, talented movers and individual voices that I have ever come across." For Sturtevant, the community has truly contributed to her growth throughout her undergraduate career.
"As a senior, much of my growth has been due to the daily inspiration I get from the students, faculty and staff. They all have given me an endless number of tools and ideas," she said. "Learning from and speaking with people in my community has helped me uncover my own artistic identity. I've gained more confidence about what I have to offer as an individual. I would not be where I am today without this community. It has provided so much encouragement and guidance during a time that can be really stressful and overwhelming."
Supporting our artistic journey
As you can see, the USC Kaufman community makes an impact on each of its members. Being able to grow through such a pivotal time in my life with my class, and the USC Kaufman community as a whole, has been so rewarding. Many of my classmates, including Matthew Perko (BFA '21) and Sidney Chuckas (BFA '21), feel the same way.
"Being in my third year at Kaufman, I genuinely feel that our school has built a tight knit family in and between all cohorts. Whether it's my closest of friends in my Class of 2021, or the bonds I've created with seniors and underclassmen, I know that I could turn to just about anyone. They'll give positive vibrations, help, advisement, encouragement and lots of hugs at any given moment," Perko said.
According to Chuckas, "it is an incredible privilege to be able to have some of my closest friends within the 2021 cohort. With each day, I have the ability to continue to make honest connections with the other classes, faculty and staff. Being at a larger university, it is comforting to know there is always a safe and brave space to go where I and others can feel supported in our artistic journeys and collegiate lives."
USC is a pretty large campus and at times it can feel overwhelming, so I am grateful to have the support of the USC Kaufman community. In addition to helping us find our voices as artists, this community provides a home.
---