Student Blog: Traveling with USC Kaufman
October 8, 2019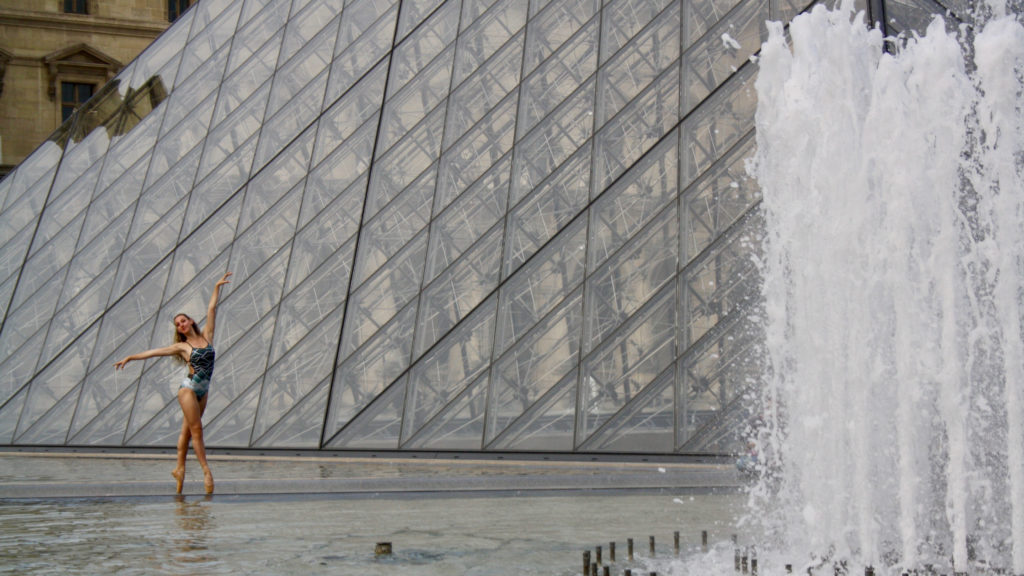 My first week at USC Kaufman, I remember hearing about a trip to Tokyo, Japan. I knew that freshmen couldn't go, but I was so excited to be at a school that emphasized traveling abroad.
Our Vice Dean and Artistic Director Jodie Gates mentioned in one of our first moments with her that, "It is [the goal of the school] to have every USC Kaufman student graduate with a passport." This really hit home for me because I see the true value of traveling, especially as an artist.
During my time at USC Kaufman, I have been lucky enough to partake in a few trips with the school, including the Paris Maymester and Gala de Danza in Cabo San Lucas, Mexico.
Critically thinking during the Paris Maymester
The Paris Maymester was life changing. We were not just learning and viewing art and culture, but actually living and understanding it. Because of this, I was able to grow as an artist and human. Through  art, culture, French history and the city of Paris in general, I inevitably began viewing the world with a wider lens.
My most memorable experience in Paris was going to Palais Garnier to see the Paris Opera Ballet. Everyone dressed up and brought nothing but respect and an open mind. The show started with a site-specific work choreographed by James Thierree. The piece was absolutely remarkable. The costumes, the lighting, the intention and the movement were all breathtaking. It was so interesting to see the already beautiful Palais Garnier transformed into a sci-fi story with creatures of all kinds lurking and moving. Throughout the piece, spectators were encouraged to walk around all parts of the theater to pick up on the storyline. It literally felt like I was in a movie.
I remember thinking about how a piece like this would be received in a Los Angeles theater, or any theater in the States. It was very avante-garde, but it seemed to me like the entire audience was taken aback, in the best way possible.
Critical thinking and reflections like this are only possible through opportunities like this abroad. My time in Paris was something I will never forget, and I have USC Kaufman to thank for that. The Maymester program is something that I hope to do again at USC Kaufman. In 2020, for the first time a Maymester will be offered in Berlin, Germany!
Becoming a global citizen at Gala de Danza
My second year at USC Kaufman, I represented our school at Gala de Danza in Cabo San Lucas. This event was very special, as it was an international dance festival. This meant that the dancers and the audience were from all around the world. Global experiences can shape artists, especially dancers, in so many ways. Gala de Danza showed me the value in dance as a means of communication. Not everyone spoke the same language or came from the same culture, but everyone was there together to support the arts.
Reflecting on these experiences, I realize that USC Kaufman is actively shaping us into global citizens by providing opportunities to perform and take classes abroad.
Why travel with USC Kaufman?
Not every trip is performance or academically-based. In fact, some of my fellow classmates were chosen to travel to London to learn more about the choreographic process. In London, my classmates were focused on choreographing with other artists at the Trinity Laban Conservatoire of Music and Dance. This was an incredible opportunity for them, on many levels. These students were able to push their artistic boundaries, while simultaneously experiencing British culture.
USC Kaufman has a strong focus on collaboration—and here, students got to collaborate with other artists from around the world. USC Kaufman also recognizes the value of traveling as a whole. This is why they bring students around the world to do many different things.
The last travel experience I wanted to touch on was the USC Kaufman NYC Debut. Almost half of our student body—primarily upperclassmen— were brought to NYC to perform at The Joyce Theater. The students performed repertory by William Forsythe, Jodie Gates, Crystal Pite and other notable artists. This was a monumental occasion for USC Kaufman, and so many students were able to share this experience. Because USC Kaufman is a newer program, traveling and showing the world what we've been doing in Los Angeles is a natural part of our curriculum.
It's obvious to see how much these trips have meant to me and my fellow USC Kaufman students. Traveling is a big part of being a student at USC Kaufman, because it pushes us in personal and artistic ways. These opportunities also prepare us to be international artists, because we have already traveled nationally and abroad by the time we graduate.
---