BFA dancers find their voices as USC art schools collaborate on "West Side Story"
March 2, 2018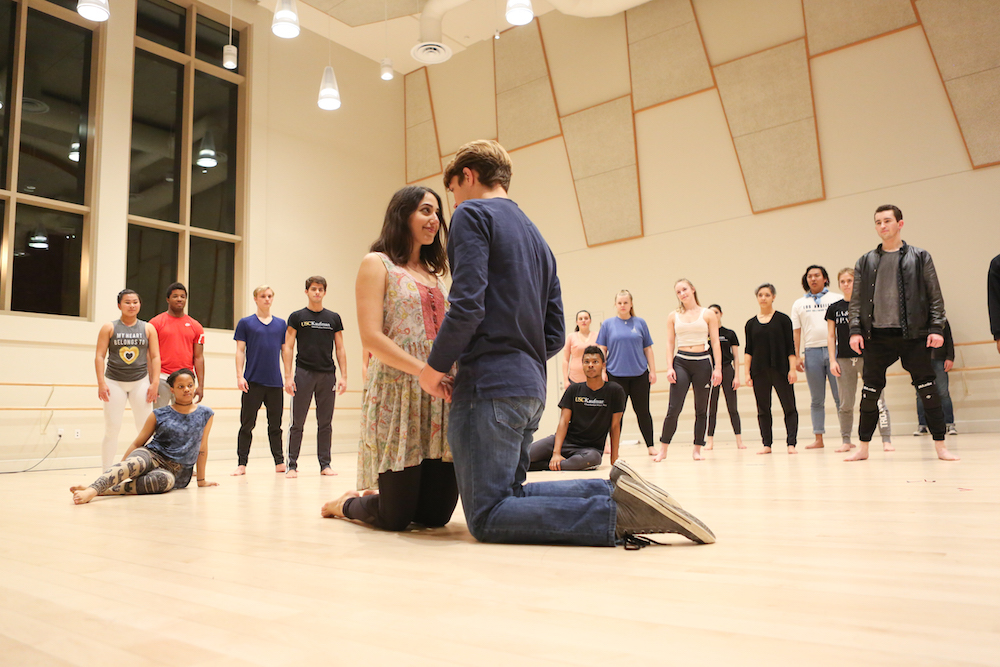 Downstairs in the Glorya Kaufman International Dance Center, the Topaz studio undergoes a transformation by night—it is no longer a classroom, but instead becomes New York's Upper West Side as students rehearse the beloved classic "West Side Story." Tape marks are set for the rooftop staircases that will roll in once the production moves to USC's Bing Theatre (just down the street), and dancers are counting more than their dance steps—Leonard Bernstein's renowned score and young Stephen Sondheim's familiar lyrics accompany Jerome Robbins' timeless choreography. Both Bernstein and Robbins were born in 1918, and to celebrate their hundredth birthdays, three USC art schools — the School of Dramatic Arts, the Glorya Kaufman School of Dance and the Thornton School of Music — will come together to produce their first-ever collaboration.
An eclectic cast
Directed by Ken Cazan, professor of Vocal Arts and Opera at USC Thornton, "West Side Story" requires impressive vocal range from its leads and has found the necessary talents scattered throughout the university. Along with the show's musical director Parmer Fuller, adjunct assistant professor in Musical Theatre at USC Thornton, Cazan auditioned the cast in three days, screening for dancing, singing, and acting capability.
"Casting was more inspiring than difficult," Cazan said. "It really challenged us in several ways to think outside the box."
The cast and faculty are comprised of members of the three arts schools, plus a few whose fields of study are in science or business. Maria will be played by master's student Theodosia Roussos, who studies voice and oboe performance. Her counterpart, Tony, will be played by Tim Frangos, an undergraduate freshman in the School of Dramatic Arts.
In the leading roles beside them stand two students with slightly different qualifications. Juan Miguel Posada, a BFA junior in USC Kaufman's inaugural class, will play Maria's brother Bernardo, the leader of the Sharks. And as his rival, Riff—Tony's best friend and the Jets' leader—is another USC Kaufman BFA junior, Noah Guthier, who will sing solo in more than one musical number.
BFA dancers find their voices
"I was expecting all of our students to be able to embody themselves in their voices because they can embody themselves in their bodies," said Patrick Corbin, assistant professor of practice in Contemporary, Modern, and Repertory at USC Kaufman. Corbin and adjunct assistant professor of Jazz and Dance History, Saleemah Knight, will serve as the cast's choreographic leads, rehearsing and cleaning choreography once the students have learned it.
"What I was not expecting," said Corbin, "was some of the acting coming out of our students. Not that it's a complete and total surprise, but it is a wonderful little surprise. Talent is talent is talent, and we already communicate through our bodies, and they are all acting really well."
Posada and Guthier are just a few of the 19 BFA dance majors and two dance minors in the cast of 38 character. Ardyn Flynt plays Anybodys, a Jet woman who wants desperately to be in the gang. Lenai Wilkerson steps into the role of Francisca while she understudies leading Shark woman Anita. Rachel Walton will stand beside Guthier as Graziella, Riff's girlfriend. Many more students make up the ensemble of Jets and Sharks.  Performing in West Side will require new skills of them; many have little to no experience in acting or singing. For Guthier, this is an entirely new experience—in fact, he did not initially audition for the show.
"The repetiteur, Danny Pelzig, saw me perform a piece in one of our classes where I told a joke onstage, and thought I would be good for the part of Riff," said Guthier. "So I got asked to come to the callback the following day. There was a dance section—which I'm used to—but I read lines and sang for the first time ever in the callback."
Guthier has discovered since rehearsals began that the acting stage fits him well. As Riff, his lines are heavy in the first act, and he has been tasked with putting a New York accent on top of them. He enjoys the challenge of a character arc, though, and has taken to putting his own interpretation on Riff.
"The show is more than just a 15 or 20-minute concert dance piece, so you really get to develop your character, as opposed to coming onstage and maybe having a minute to portray what you need to," he said.
The classic Robbins choreography
Aside from being thrown into a new world of acting and singing, BFA dancers and their fellow cast members will take on another daunting task: learning Robbins' original choreography. Pelzig, who performed the choreography on Broadway after learning it from Robbins himself, took the first month of rehearsals to teach each step to a full cast of dancers. Robbins' choreography is challenging, requiring classical ballet and jazz vocabulary on syncopated counts.
"The design, the line, the geometry of the body, and the asymmetry; the shapes have to be a little bit askew," Knight said. "Inside of that, the students really have to think about who they are…it's a little bit more of a character that has to consistently grow within a linear narrative."
Gangs onstage, colleagues offstage
As these BFA dancers are given the opportunity to speak out in their own voices, they are also exposed to the voices of their peers in the music and theater schools. With up to four hours of rehearsal a day, six days a week, the cast has grown together, although they might not show it onstage.
"It has been interesting to watch how our dancers feed off of some of the singers and actors in the show, who are absolutely amazing," Knight said. "They have all inspired each other—I have heard some of the students say that they want to begin singing lessons because of how proficient the vocal students are in their craft, and in return the other students are more encouraged to take dance classes with us."
With just a month until opening night, the cast will begin to rehearse with set, sound and costumes this week in the Bing Theatre.
"We are really lucky to work with people at this high level of capability, and all still at the same age as the characters in the piece," Cazan said. "It's a monstrous plus, and just makes such a difference in energy and rawness—and excitement."
West Side Story opens March 29 and closes April 8, 2018. Tickets are available for purchase at dramaticarts.usc.edu.
---
By Celine Kiner