Our 2022–2023 Year in Review
May 19, 2023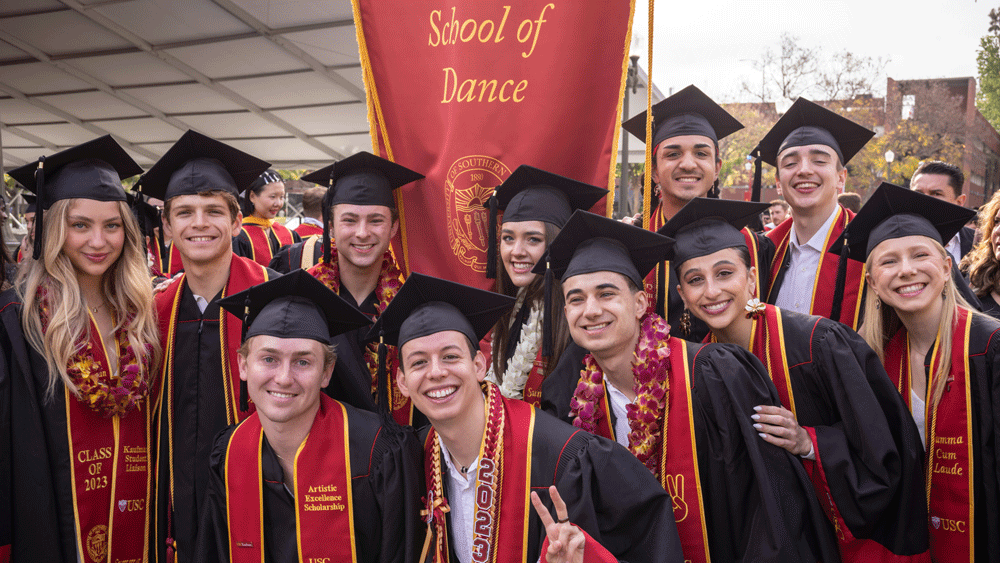 Another momentous year at USC Kaufman is in the books. We welcomed a new dean, performed in front of packed audiences, and celebrated the fifth graduating class of the USC Glorya Kaufman School of Dance. Below are some highlights of the 2022-2023 academic year.
Julia Ritter installed as Dean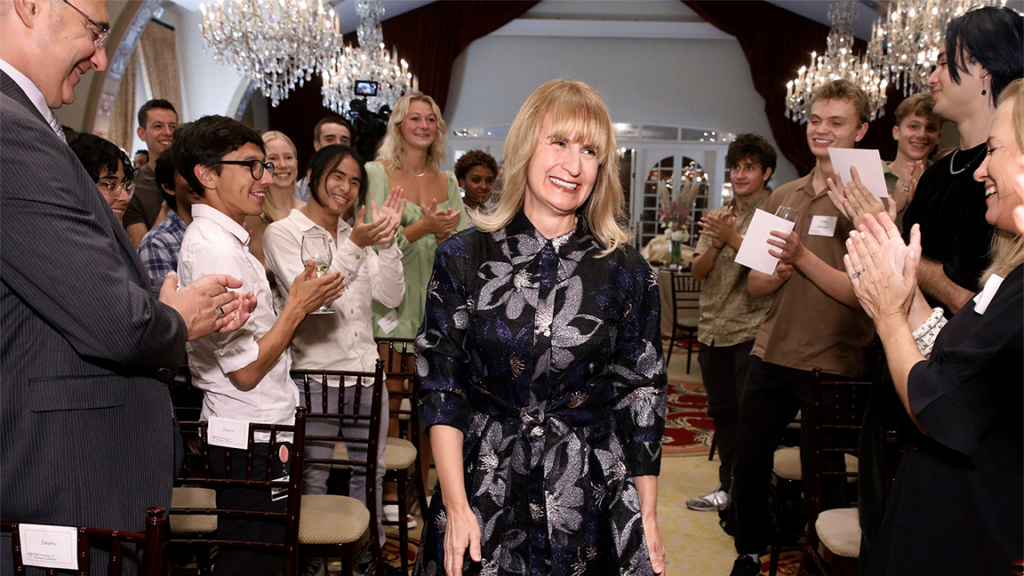 USC Kaufman welcomed its new Dean, Dr. Julia M. Ritter, in July 2022. Ritter, an author and three-time Fulbright fellow, joined USC Kaufman from Rutgers University, where she served as a professor of dance and chaired the dance department for a decade. Ritter's arrival ushered in a new era at USC Kaufman. She became the second full-time dean after the retirement of former Dean Rob Cutietta, who also headed USC's Thornton School of Music.
"I view dance as an immersive way of being in the world," Ritter said earlier this year at her installation ceremony. "To paraphrase performance studies scholar Rebekah Kowal, 'dance does things,' and I'll add to that — that dance does things that matter."
USC President Carol Folt, who hosted the installation ceremony, added: "[Ritter] sees interdisciplinary collaboration as the ultimate dance expression."
Students share the stage with Monica Bill Barnes & Company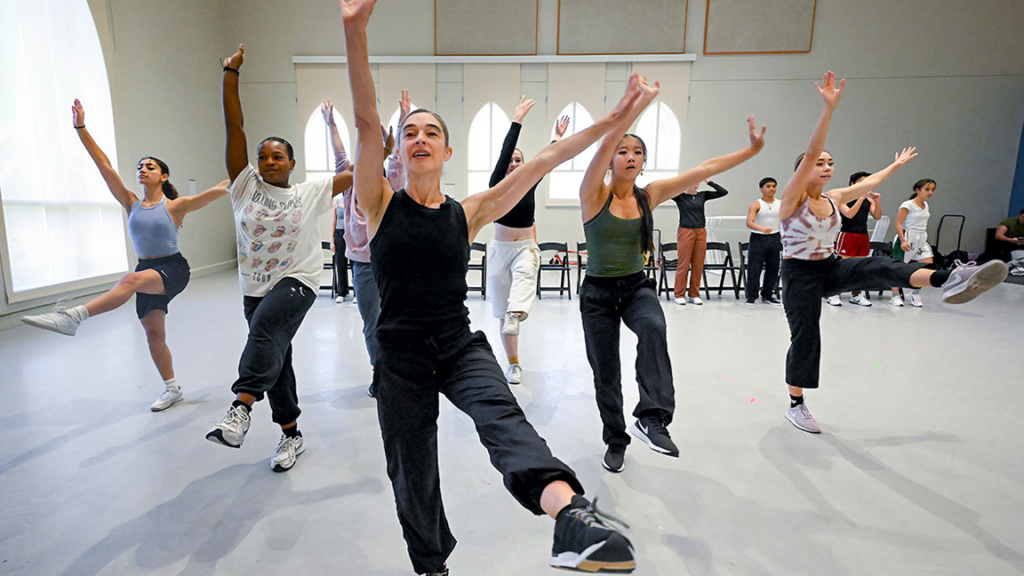 Renowned choreographer and dancer Monica Bill Barnes and writer Robbie Saenz de Viteri made a splash to start 2022-2023. They arrived in Los Angeles at the invitation of USC's Visions & Voices for the presentation of their high-energy performance The Running Show. To round out the cast, Barnes enlisted USC Kaufman BFA students. Barnes challenged them with just four days between auditions and learning the choreography for the final performance.
"Dancers are some of the few artists that will sign up for something kind of insane," Barnes told USC News earlier this fall. "The invitation is in five days to learn an entire show, and then perform it on a big stage, and that's a lot to ask of people."
Timing aside, the West Coast premiere of Monica Bill Barnes & Company: The Running Show was a resounding success. USC Kaufman BFA students shined alongside the award-winning Barnes.
Kyle Abraham begins his first school residency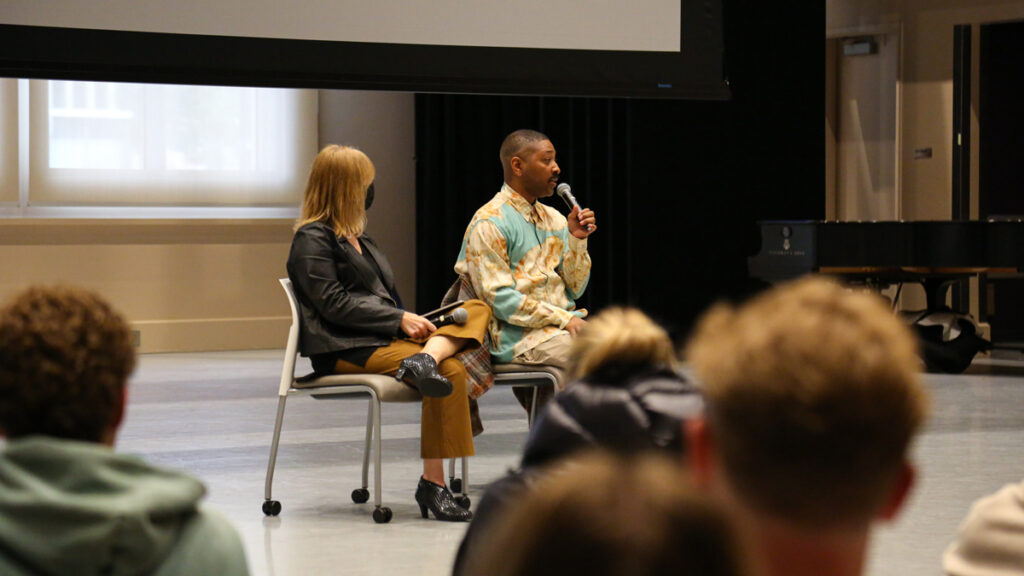 MacArthur fellow and 2022 Dance Magazine Award honoree Kyle Abraham was named the Claude and Alfred Mann Endowed Professor in Dance at USC Kaufman in 2019. He joined USC in January to begin his first in-person residency, which spanned six weeks.
During that time, Abraham created an original work for the Class of 2024, taught classes, and immersed himself in the USC Kaufman community. Abraham returns to USC Kaufman during the 2023-2024 academic year for his second residency, which includes the wide debut of his premiere, Medulla Problems, created earlier in the spring.
Seven new members join the Board of Councilors
In the years since its establishment, the USC Kaufman's Board of Councilors—the stewarding advisory group of the school—has grown to 20 members. Seven joined the Board in 2023 alone. Among them were media expert and USC alumna Charlene Achki-Repko, executive leader Celeste Alleyne, business leader Joan Herman, dancer and actor Finola Hughes, USC alumna and screenwriter Tatiana B. James, director and choreographer Kenny Ortega, and producer Jeff Thacker.
Professor d. Sabela Grimes receives USC Associates Award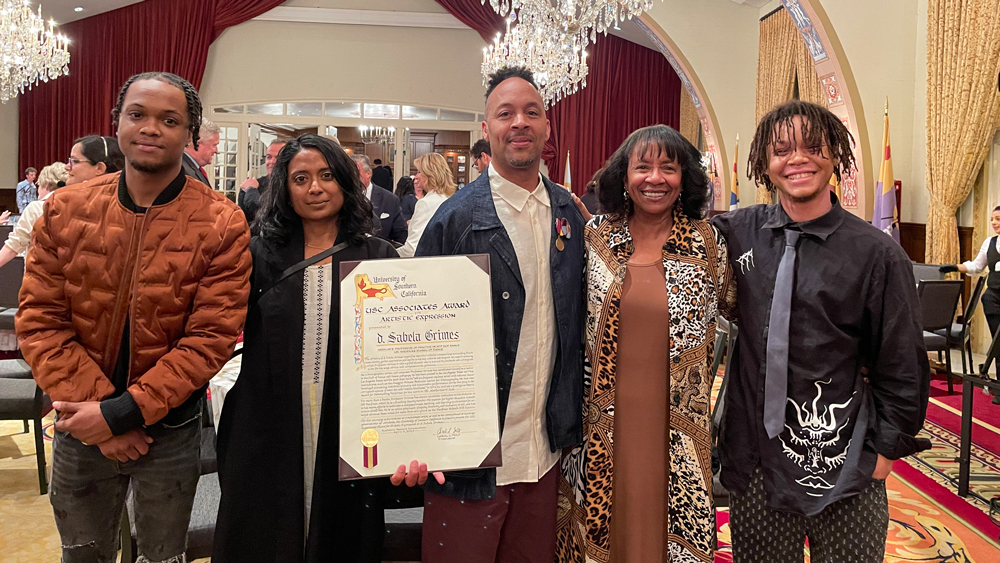 Each year USC bestows awards recognizing the contributions of USC faculty. One of those honors is the USC Associates Award for Artistic Expression, one of the highest honors bestowed on faculty. This year's recipient was USC Kaufman Associate Professor of Practice d. Sabela Grimes, a founding faculty member of the USC Glorya Kaufman School of Dance.
"I am honored to receive this award," said Grimes. "It is a privilege to be an educator, especially for students like the ones here at USC. I'm grateful to them, USC, and the entire Kaufman community for being such amazing thought partners. Thank you!"
Grimes continues to cultivate Funkamental MediKinetics, a movement system that draws on the layered dance training, community building, and spiritual practices evident in Black vernacular and Hip Hop/Street dance forms. He is the first professor of USC Kaufman to receive the award.
USC Kaufman returns to The Wallis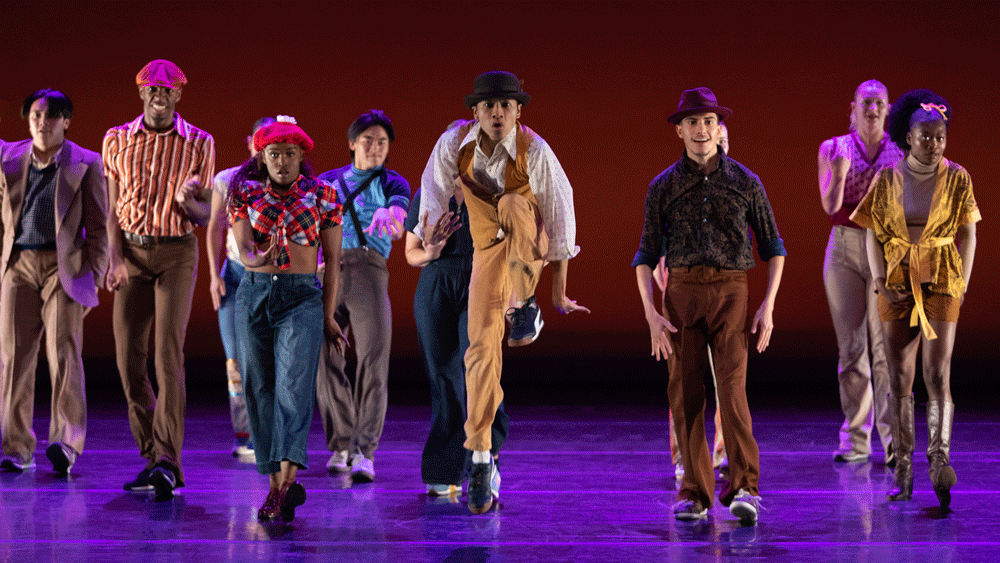 For the second consecutive year, BFA students put on a spectacular weekend of performances at The Wallis Annenberg Center for the Performing Arts in Beverly Hills. This year's program featured four world premieres by USC Kaufman Artists in Residence Hope Boykin and Tessandra Chavez, and faculty members Tiffany Bong and Jackie Kopcsak, with packed houses all weekend, and a sold-out closing performance during Sunday's "Community Day" matinee presentation.
Assistant Professor of Practice Tiffany Bong presented a world premiere inspired by the hit TV show Soul Train, and students shared a special moment on stage with some of the original cast members who attended over the weekend.
A send-off to remember for the Class of 2023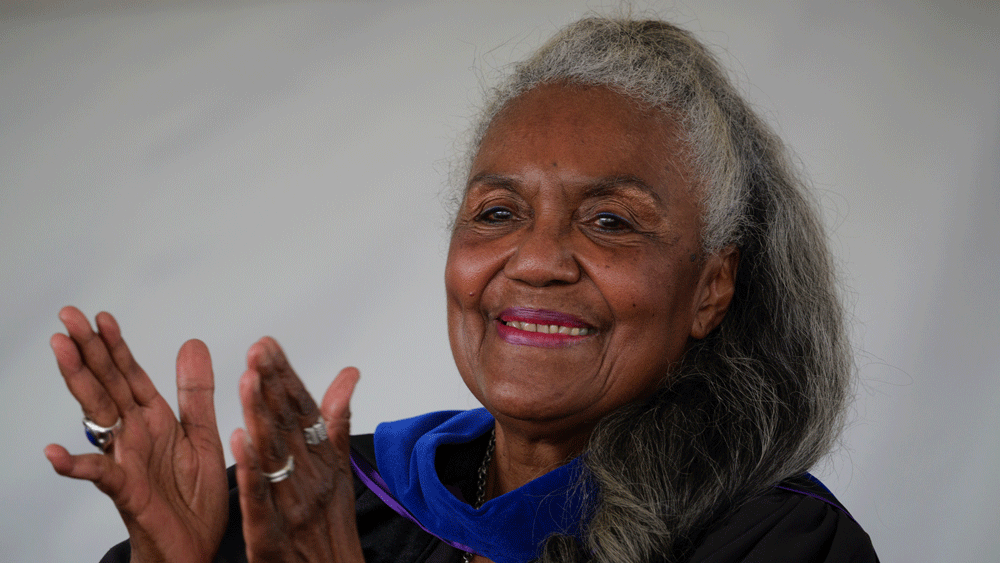 The 2022-2023 academic year ended on Friday, May 12, the date of this year's Commencement festivities at USC. The third cohort to celebrate graduation, USC Kaufman's Class of 2023 spent a day with friends and family, punctuated by a commencement speech by dance scholar and activist Dr. Brenda Dixon-Gottschild.
"A commencement ceremony marks an auspicious time of moving on," Dixon-Gottschild told the Class of 2023. "The next phase of your lives will be indelibly contoured by your time here. You are entering a world of infinite possibilities laced with mind-boggling conflicts, and you each possess both the responsibility and the joy of finding your voice and your place—of being heard and seen, artistically and societally, as an individual, and as part of the human collective."