Performing iconic repertory off-campus with USC Kaufman
September 5, 2019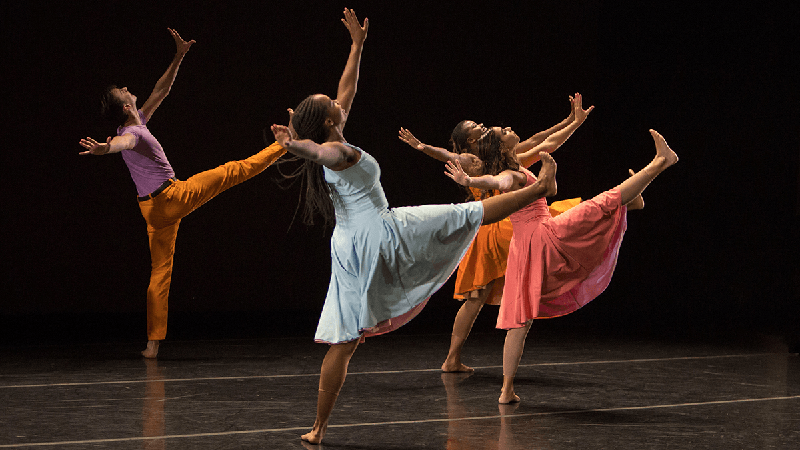 In addition to academic classes, performance is part of the curriculum at USC Kaufman. During the midterm showings, as well as end of semester showcases, students perform repertory that they have been working on throughout the entire school year. Past repertory includes works by William Forsythe, Crystal Pite, Dwight Rhoden, Paul Taylor and many more. These performances typically take place on campus. However, students often have special opportunities to perform master works at off-campus venues, nationally and internationally.
USC Kaufman students are also given the opportunity to perform at various venues and events off-campus through the school's connection to the university and the larger dance world. I sat down with four BFA students to discuss different off-campus opportunities they have been a part of during their time at USC Kaufman. Anijah Lezama (BFA '22) took part in the USC Trustees Retreat in Santa Barbara; Sidney Chuckas (BFA '21) performed at the ODC Walking Distance Dance Festival in San Francisco; Rachel Harris (BFA '20) was a part of the iconic Gala de Danza in Los Cabos, Mexico; and Whitney Hester (BFA '20) was a part of our NYC Debut at The Joyce Theater.
Anijah Lezama at the USC Trustees Retreat
Lezama was one of the students selected to perform at the USC Trustees Retreat in 2019. She was more than excited to be a part of it.
"It was such a special performance for me because I was trusted to perform for such a prestigious event as a freshman, and the feedback was wonderful," she said. "The trustees were well informed about the performing arts and were actively engaged."
Sidney Chuckas at the Walking Distance Dance Festival
During his time at USC Kaufman, Chuckas has performed Barak Marshall's Monger in multiple settings.
"My experience performing a theatrical, yet highly technical piece, changes drastically depending on the type of setting and audience," he said. "At the Walking Distance Dance Festival in San Francisco, the audience was sitting just inches away from us. With this intimate audience, I practiced accessing and utilizing tools for clearer and more definitive communication. I felt that the audience seemed unable to tune out or turn away from the directness of the piece, as well as its message, due to the close proximity of performer and audience members."
Chuckas' favorite memory from the 2019 Walking Distance Dance Festival was in delivering the piece's final monologue.
"It was such a joy to perform and embody that feeling of freedom with [the audience] instead of for them," he said.
Rachel Harris at 2019 Gala de Danza
Gala De Danza is an international dance festival put on by Christina Lyon located in Los Cabos, Mexico. Harris was amazed by the positive energy created by this event.
"I vividly remember the aspirational energy from the students and support from other audience members that brought us to the peak of two illuminating performances," she said. "The viewers even included students with whom we had the opportunity to teach and work with before the shows. One of my favorite moments of the trip was writing autographs and taking pictures with them after the performances. We were welcomed by an eager, receptive and grateful audience throughout the gala showings."
Whitney Hester at our NYC Debut at The Joyce Theater
The NYC debut at The Joyce Theater in 2019 was an iconic moment for USC Kaufman. Hester was a part of the group that traveled and performed.
"I initially felt a lot of pressure to show everything we had," Hester said. "We all talked about this performance for so long that I felt like everything needed to be perfect in order to prove that we were worthy of a debut at such an iconic venue. As soon as the curtain opened for In the Middle, Somewhat Elevated, I felt nothing but support from the audience. I didn't feel any judgement even though there were major dance company directors, dance critics and even some old friends in the audience. Performing at The Joyce Theater with my USC Kaufman family is definitely a memory I will never forget."
Performing is one of my favorite parts of the BFA program, but it's only one of the many benefits. Because USC Kaufman is a dance conservatory embedded in a research university, we are also able to pursue other academic interests. It opens up the possibility to pursue a variety of paths in the dance industry and beyond. I'm excited to see how these performance opportunities, our academic classes and USC Kaufman training will shape our future careers.
---
By Zackery Torres (BFA '21)