Seeing Representation in Dance Beyond the AAPI Monolith
September 30, 2022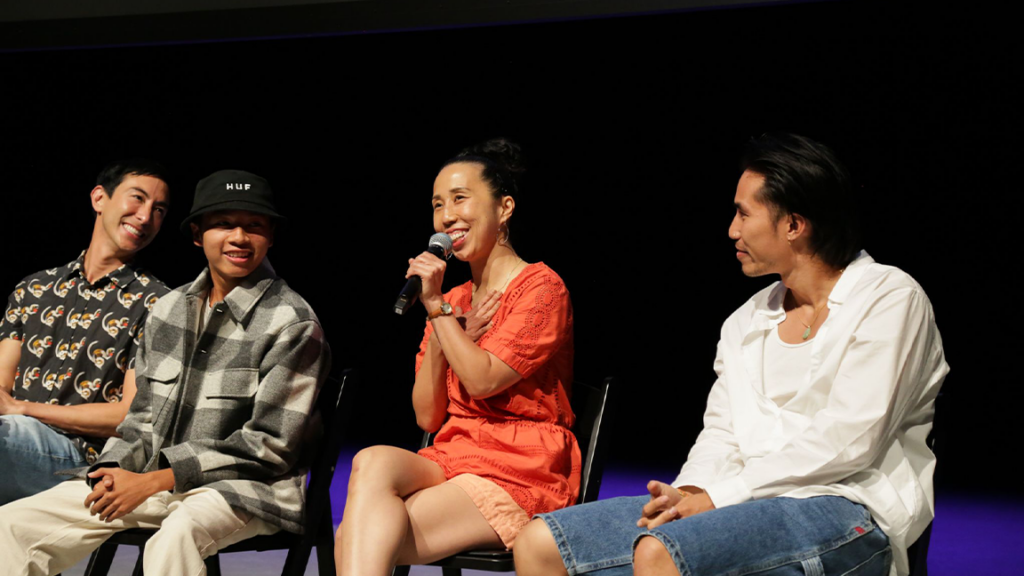 On September 15, the USC Glorya Kaufman School of Dance partnered with USC Visions and Voices to host Beyond the Monolith: Representations of AAPI Artists in Dance, Part 1. This event was the first of a forthcoming series aimed at creating platforms of visibility for Asian American Pacific Islander (AAPI) dance artists. Featuring a diverse group of artists at different stages of their professional careers, this inaugural event illuminated a broad spectrum of innovative approaches to dance, addressed AAPI artists' struggles for equitable representation, and presented their call to action goals at USC Kaufman.
AAPI USC Kaufman faculty members Bonnie Oda Homsey and Achinta S. McDaniel discussed the inspiration, planning and goals of this event.
The AAPI Working Group
In spring 2022, some USC Kaufman faculty, staff and students, including Homsey and McDaniel, created the AAPI Working Group. They discussed taking action by hosting events and performances.
"This first year class has the highest number of AAPI students ever, which is very exciting. It also means that Kaufman has to be more responsive to everyone's needs," Homsey said. "It's one thing to bring in AAPI students, but who will they look to as role models? I had very few role models."
This fall semester presented a unique opportunity to showcase AAPI art. USC Kaufman has brought in three AAPI artists: Peter Chu, Yin Yue and Max Pham. USC Visions and Voices joined as a partner to support the AAPI Working Group's vision, and together they created Beyond the Monolith, Part 1.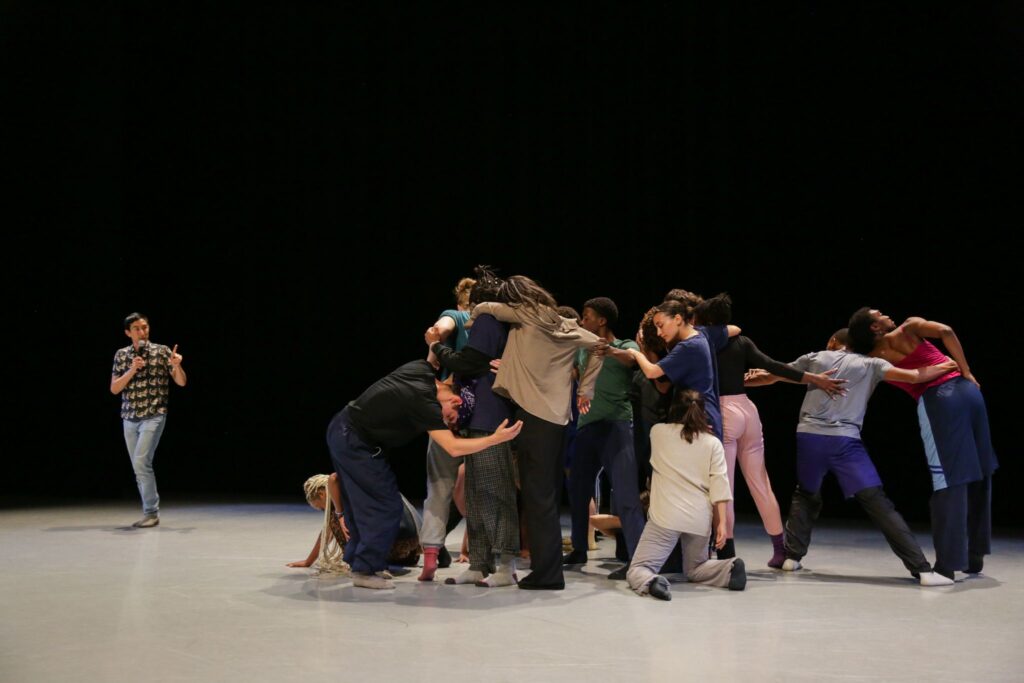 The problem with the monolith
The title of the event, Beyond the Monolith, calls attention to a nuanced problem within the fight for representation and visibility: the uniformity created by the term AAPI.
Following COVID-19's outset in China, the US saw an uptick in violence against Asian Americans. Subsequently, questions of where AAPI people stand in the US have risen as community leaders take larger stands to increase representation. While this is paramount, it is also valuable to examine our definitions of representation. Homsey, who led the panel discussion, brought up the following facts to consider.
The term "Asian American" was coined after the 1965 immigration act, a law that eliminated the national origins quota system that had previously restricted the number of immigrants to the US from Asia. Second, a recent US Census Bureau report shows the Asian population as the fastest growing demographic, increasing by 88% from 2000 to 2019. Third, the acronym "AAPI" is an umbrella label that clusters 22 million people from roughly 50 ethnic groups in 20 countries. Fourth, a 2020 report published by AAPI in Philanthropy (AAPIP) says that grant making to AAPI creatives remains a low priority due to a lack of AAPI people in leadership roles.
From these four facts emerges a story of AAPI people in the US. Understanding the history and the problem's specifics is vital in fighting against marginalization, exclusion and intersectional inequity. However, Homsey and McDaniel suggest that perhaps the umbrella term "AAPI" is doing harm.
"Some community leaders argue that lumping us under this pan-ethnic racial umbrella actually culturally flattens and potentially erases the cultural memories of our ethnic groups, history, languages and characteristics," Homsey said.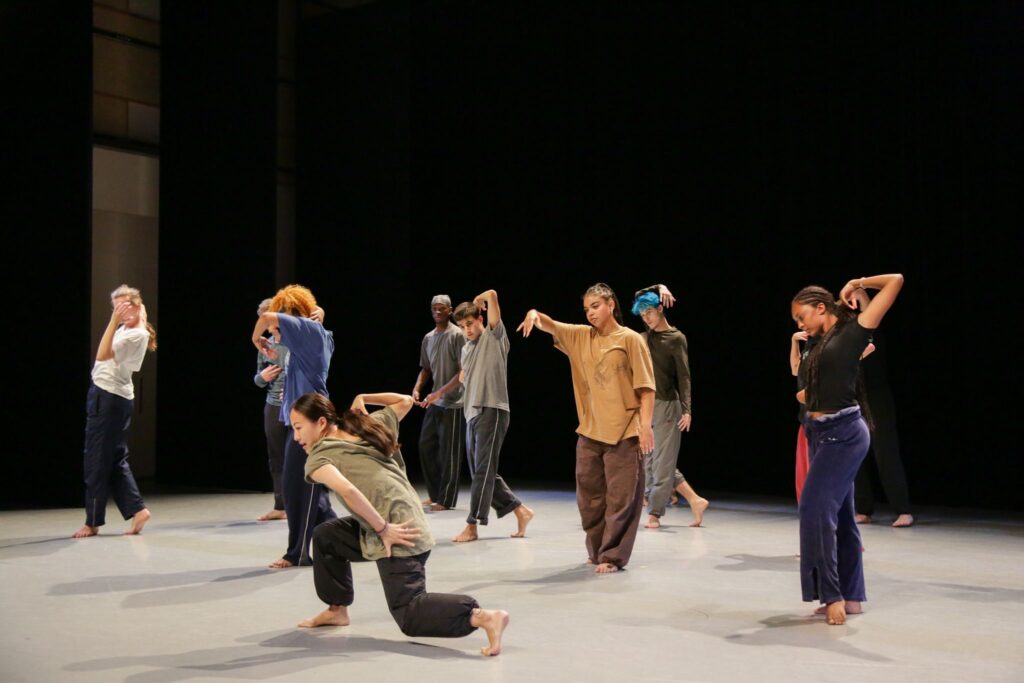 Beyond the Monolith
Tackling the narrative created in the aforementioned four facts, this event aimed to highlight AAPI individuality beyond the monolith. The title encapsulates the vision: to break down the idea that 22 million people can be categorized in the same stereotype, and to showcase the variety existent within AAPI voices.
"A huge goal is to unveil the multiplicity of the AAPI that are showing their work. To show how different they all are, so putting us under one moniker is something interesting," McDaniel said. "I want audiences to ask themselves, 'how am I thinking about people who are Asian in the dance world? When I think about representation, what do I mean by that?"
The event is a culmination of the work that AAPI leaders, including Homsey, McDaniel and USC Kaufman faculty member Tiffany Bong, have been doing throughout their lives.
"A big passion of mine is trying to de-invisibilize the diversity of AAPI. To make that an active term," McDaniel said. "There's such an active term in trying to invisibilize us. To make us a monolithic representation of one Asian thing or to ignore South Asians completely."
The event
Audiences watched three dance films, two performances and a panel discussion. Construct of One, created by AAPI dancer and filmmaker Hayden Rivas (BFA '24), starred AAPI dancer William Okajima (BFA '24). Embrace was created by AAPI artist Ryan Phuong (BFA '24). McDaniel, in collaboration with her dance company Blue13 and Saam Gabbay, created Firebrand Sway, featuring Okajima and AAPI dancer Valerie Chen (BFA '24) alongside Blue13 Dance Company members.
Artists in Residence Chu and Yue showed their work, performed by BFA students. Chu walked the audience through a creative warm-up process with the Class of 2025, influenced by his Tai Chi practice. Yue led the Class of 2023 through a phrase from her new work, clarifying each movement in her signature style.
Next, Homsey moderated a panel with faculty members McDaniel and Bong, students Rivas and Phuong and Artists in Residence Chu, Yue and Pham. Each spoke about their experiences as AAPI artists and the influences of their cultural identity in their work.
Following the performance, audience members and performers gathered in the USC Kaufman courtyard for drinks and snacks at an informal reception.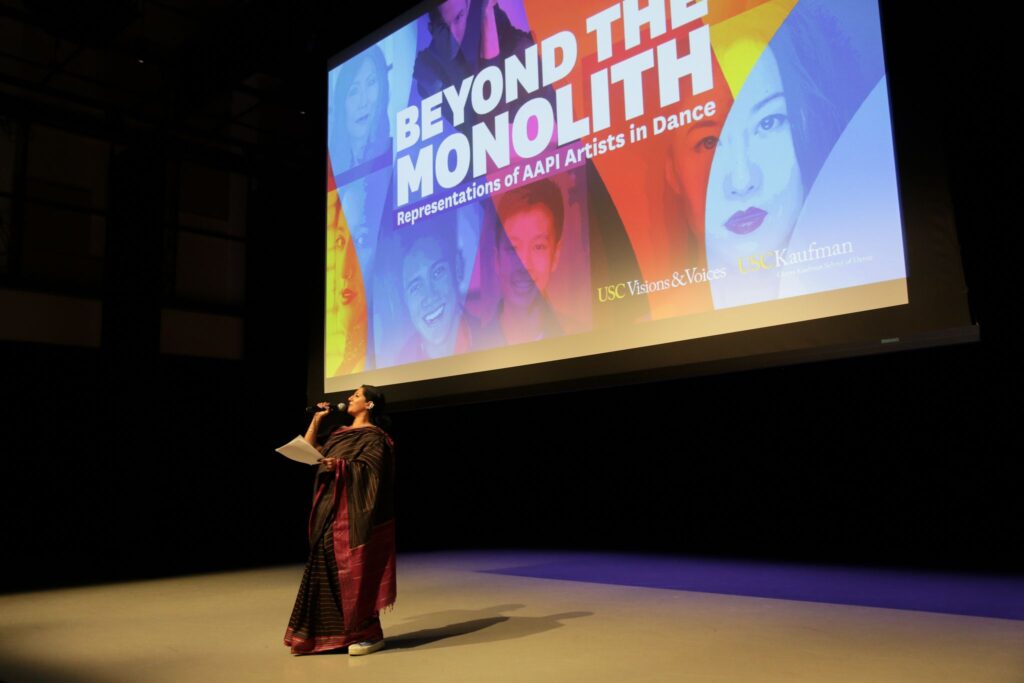 Coming next
The USC Kaufman AAPI Working Group is only just getting started.
"Hopefully there will be interest in joining the AAPI working group," Homsey said. "We have people like Patrick Corbin and Jackie Kopcsak who are not Asian but are really supportive. It's not like, 'let's see your nationality card,' it's 'is your heart big enough.'"
They hope to plan more events and larger discussions.
"If people have suggestions, let us know! My interest is things that are obviously invisible in the dance field that we as the New Movement should be unveiling," McDaniel said. "I want to hear from people about where we should be doing this."
If you are interested in getting involved with the AAPI Working Group, fill out this form.
USC Kaufman Artists in Residence are supported in part through generous funding from The Choi Family Artists in Residence Fund. Additional support for visiting artists provided by Katherine and James Lau.
Event reception hosted by USC Kaufman Board of Councilors member Jennifer Cheng, with additional support provided by Board of Councilors member Sue Tsao and faculty member Bonnie Oda Homsey.
---
By Hannah Doerr