Save as Draft presents Under the City Sky: a senior project by Jona Huang
March 23, 2022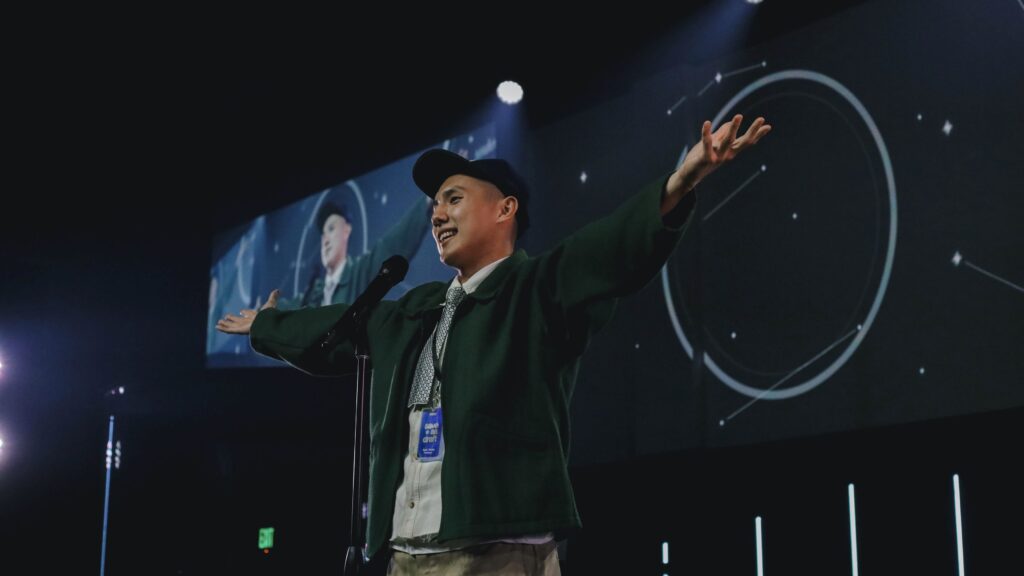 For his senior project, Jona Huang (BFA '22) knew he wanted to produce a show that would bring Los Angeles communities together. He began with three small shows, all self-produced and self-funded. According to Huang, these smaller shows were originally going to be his entire senior project, but he got hooked on the process and wanted to create something bigger. Using the knowledge he gained from producing these smaller shows in different formats, Huang put together a team and applied for grants. With the help of show manager Maddy Falconer (BFA '23), Huang secured a foundation grant to produce his show Under the City Sky.
Save As Draft
Huang named the collective he created in the process of producing shows Save as Draft.
"Save as Draft is not a company, it's just a team. I haven't looked into what it means to start a business, I am purely interested in producing shows," Huang said. "But I do think there's value in having a collective with a name. That way people don't say 'I'm working for Jona,' they can say they're working for a team that has a bigger goal."
The name of his team was inspired by an interaction with Instagram.
"I was trying to post something on Instagram, and I had a second of doubt and tried to exit out and it asked 'do you want to save as draft,'" Huang said. "The idea of this collective is to just put stuff out there for the sake of art, not to impress anyone or to make money."
Under the City Sky
Huang titled his show Under the City Sky, presented by Save as Draft. The event was a night of connecting communities and bringing artists together. A market of local vendors preceded the show, along with food trucks and a coffee stand. Audience members arrived early to mingle, shop and snack before watching the performance.
The performance took place at Tapestry LA, in a large room with a small stage. The audience was free to walk around as they pleased. The dancers took turns individually and in groups to dance throughout the space. Michael Naffier (BFA '23) served as the sound engineer, arranging electronic music live using both a sound board and a guitar. According to Huang, Naffier created the music on the spot, reacting to what he saw and felt from the dancers. Production company RYBG followed the dancers with a large camera that live-streamed the movement to projection screens around the room. This way audiences could watch different angles of the movement simultaneously.
"A lot of the performance was structured improvisation," Huang said. "The dancers just played, like a playground with structure."
According to Huang, Falconer and Wyeth Walker (BFA '22) facilitated the choreography in collaboration with the dancers. The dancers created their own movement, which Falconer and Walker organized and refined, adding texture and dynamic. Graphic designer Stephanie Xu designed and created the animation projected around the room. Tapestry LA's technician Mikey Chun did the lighting design.
Creating a feeling of togetherness
According to Huang, he went to see Lecturer Amy O'Neal's show the Hybrid Lab during his sophomore year. He was so moved by the event that he realized he wanted to produce shows that bring communities together like O'Neal's had.
"I wanted people to come in and feel like they are connected again to the world," Huang said. "I think a lot of the time, artists can feel a little out there, and I wanted this experience to root them back to this feeling of community."
Under the City Sky brought together many styles of art. It featured dance, music, graphic design, video production and physical art sold by the vendors before the show. The night concluded with a cypher open to all participants including performers, audience members and Save as Draft team members. In this way, the event was able to connect different sub-communities and create a feeling of togetherness.
"During one of our creative meetings for the show, someone suggested throwing projections up, instead of just frontal. That way, people would look up at the ceiling," Huang said. "We wanted to mimic the feeling of looking up at the night sky. When you look up at the sky and see the stars, you feel like you are part of something bigger."
Collaborating with the USC Kaufman community
In addition to O'Neal, Huang noted his appreciation for USC Kaufman faculty members d. Sabela Grimes and Dawn Stoppiello. According to Huang, both professors have always supported him and his creative endeavors.
"Professor Stoppiello is the reason I feel like I can do stuff like this," Huang said. "In her classes, she creates a space where I feel like I can do anything, and that anything is possible. She's always encouraging me to go more experimental, more daring and she's never once told me not to do something because 'I don't think you can.'"
For Huang's senior project, most of the Save As Draft team consisted of USC Kaufman students. The performers were all BFA students of different classes.
According to Huang, he will continue to run with his collective Save as Draft for as long as he can without having to make it an official enterprise. He calls Save as Draft a project based team, and he hopes to bring in new people and communities for every project and continue to produce live performances.
Members of the Class of 2022 will give presentations about their senior projects April 6 – 8, 2022 at the Glorya Kaufman International Dance Center. Senior Projects are supported in part by The Collaborative Projects Fund and the generosity of The Cheng Family Foundation. Register today!
---
By Hannah Doerr