Glorya Kaufman honored at 2019 World Choreography Awards
November 13, 2019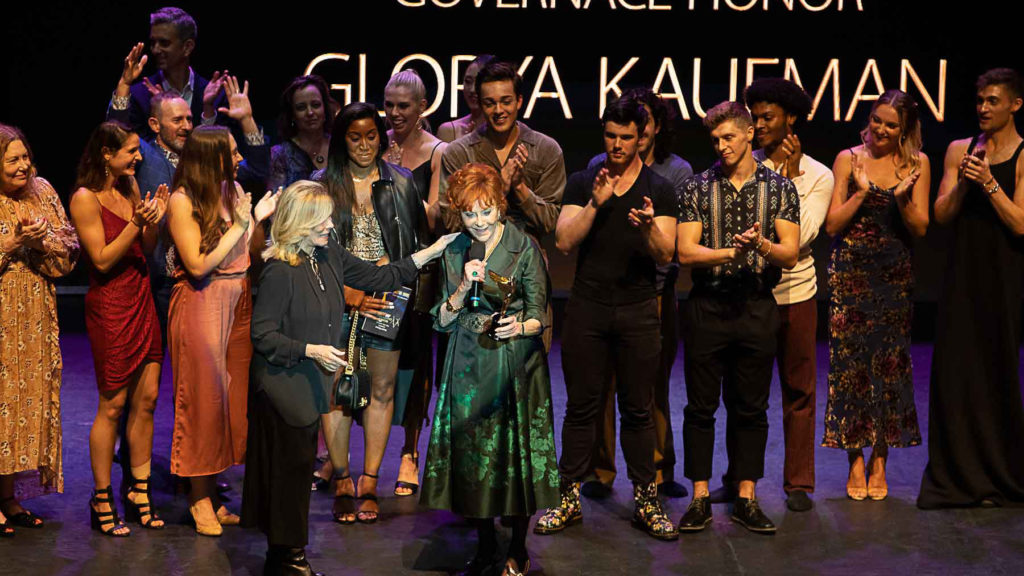 This month, Glorya Kaufman received The Next Frontier of Dance Governance Honor at the 2019 World Choreography Awards. She was recognized for building global awareness of dance through her philanthropic efforts, which include the founding of USC Kaufman and the opening of the school's state-of-the-art training facility, the Glorya Kaufman International Dance Center.
For USC Kaufman students, their experience with the philanthropist's work goes beyond new studios and classrooms.
"Glorya Kaufman's dedication to dance is far-reaching. Not only did she provide the transformative gift which led to the creation of USC Kaufman, but she has also supported programs at many other schools, and continues to aid specific students in need," said Edward Oyarce-Solomon (BFA '21). "In doing so, she has helped support the Artist in Residence program. This program allows a number of amazing choreographers to come to us each year and work with us, while advancing their own projects. For her many generosities within the dance community and her continued effort to advance it, I think it is most fitting that she was honored at the World Choreography Awards."
Performing "Monger" in celebration of Glorya
In celebration of Glorya Kaufman, eight dancers from USC Kaufman's BFA program surprised her with a performance of Barak Marshall's "Monger" at the awards show. Marshall is an acclaimed choreographer and USC Kaufman Artist in Residence. In addition to Oyarce-Solomon, the cast included Justin Pham, Jakevis Thomason and Adam Vesperman from the Class of 2020. Sidney Chuckas, Simon Schuh, Zackery Torres and Mariano Zamora Gonzalez from the Class of 2021 also performed.
"Performing 'Monger' to honor Glorya Kaufman at the World Choreography Awards was exciting. It gave us— the students from her school— the opportunity to show so many people in the industry the impact that she has had on the dance community," said Oyarce-Solomon. "It gave us the opportunity to show our gratitude, as well as our dedication to The New Movement."
Alumni success at the World Choreography Awards
Each year, The World Choreography Awards recognize excellence in the art of media choreography. This year's nominees included USC Kaufman alumni Aidan Carberry (BFA'19) and Jordan Johnson (BFA '19). They were nominated for their work on half.alive's music video "still feel." Carberry and Johnson are currently on tour with the band and have performed with half.alive on NPR, Jimmy Kimmel Live, The Late Late Show with James Corden and more.
For more information about the World Choreography Awards, please visit worldchoreographyawards.com.
---