Recap of 2020 Senior Project Presentations
May 14, 2020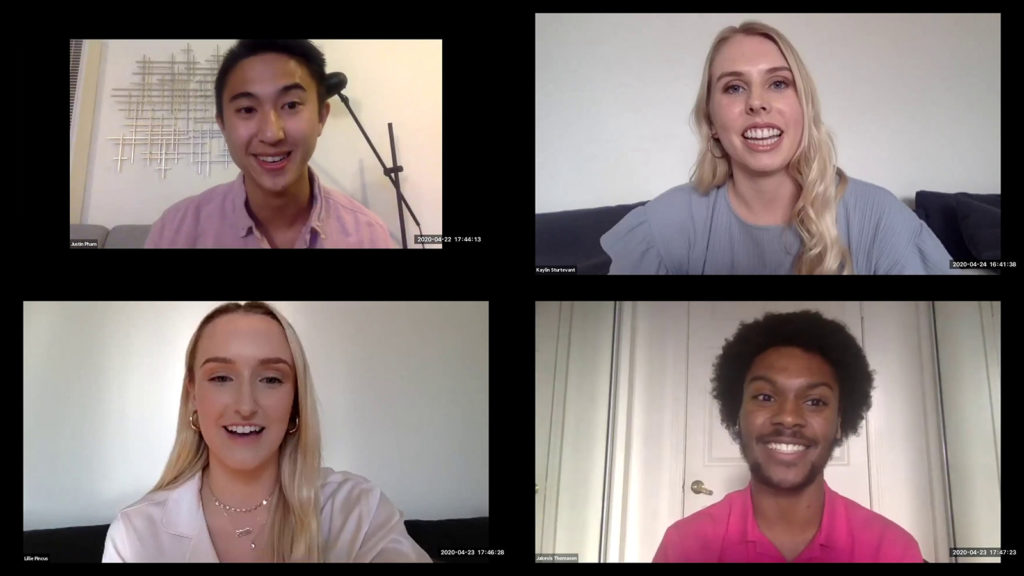 Over the span of three days, members of the USC Glorya Kaufman School of Dance Class of 2020 gathered over Zoom to showcase their senior projects. Presentations were held April 22, 23 and 24. Each graduating senior gave a fifteen-minute presentation about their projects, which related to their career goals and drew from their learning and experiences during their time at USC Kaufman.
This year, USC Kaufman senior projects covered a wide range of subjects. They allowed BFA's to explore their academic and personal interests with their background in dance.
Reflecting on dance progress
Two seniors chose to reflect on their dance journeys throughout their time at USC and beyond. Justin Pham looked back over his body of choreographic work to highlight the value of commercial dance. Jakevis Thomason presented an online choreography showcase that examined the work he has created throughout his college experience. The show consisted of new material and previous works to show his development over time.
Dance discussions
Some seniors chose to hold discussions over Zoom as a complement to their projects. Lillie Pincus facilitated a series of virtual, dance-centered conversations. She also created a website to share the recordings of the conversations. Similarly, Amaria Stern conducted a series of conversations for her project, called The Diaspora in Motion. The sessions explored subjects pertaining to the rich spectrum of Afro-diasporic dance traditions.
Choreographic performances
Alyssa Myers and Kaylin Sturtevant collaborated on their projects to organize and present a split-bill, choreographic performance. They offered their perspectives of business, musical collaboration and choreography in preparing for the event.
Mariana Carrillo also created a performance for her project, called "The Story Behind Gala de Danza." The main purpose of the event was to utilize artistic expression as a bridge to help establish better relationships between the United States and Mexico. It was held at the Mexican Consulate's art gallery facilities.
Olivia Gieringer created a self-portrait series of dances recorded on film. The video series showed the transition from adolescence to adulthood, with an underlying theme of female liberation.
Dance, science and daily routines
Two seniors examined dance in relation to science. Rachel Harris researched how creative movement can produce sustainable and renewable energy. In addition, Adam Vesperman looked into the advantages of occupational therapy screenings with BFA students.
Similar to Vesperman's work with redesigned lifestyle routines, Whitney Hester devised a program for football players to improve their workout routines. She stressed the addition of certain exercises influenced from her experiences at USC Kaufman, ultimately reducing the number of ankle injuries for football players.
Philanthropic projects
Finally, a few seniors chose to take a philanthropic route with their projects. Jake Tribus took his passion for giving back and merged it with dance, arts administration, business practices and curation to support Dancers Responding to AIDS. Brendan Evans, Ausia Jones and Rae Srivastava teamed up to create a collective senior project that also included philanthropy. They planned to host a social and artistic event titled Young Artists for Planned Parenthood, in which they would donate proceeds from ticket sales to Planned Parenthood.
The USC Kaufman senior projects encompassed many subjects and exhibited the hard work of the Class of 2020. View some of these projects, as well as senior projects from USC Kaufman's inaugural class, on YouTube.
The Class of 2020 Senior Projects are supported in part by The Collaborative Projects Fund and the generosity of The Cheng Family Foundation.
---
By Brigid Murphy