Class of 2020: Where are they now?
December 7, 2020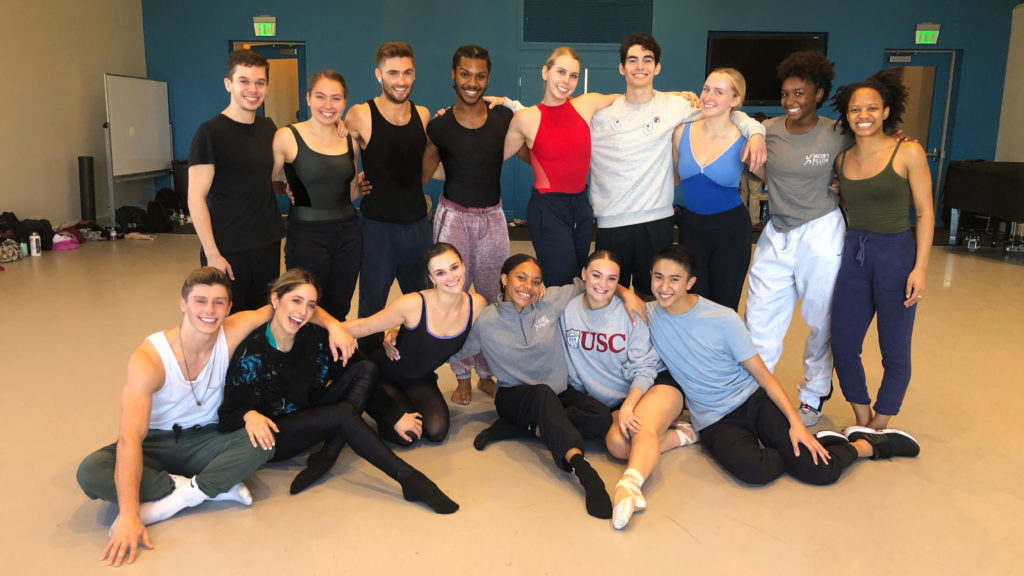 Since their graduation and virtual celebration in May, members of the Class of 2020 have begun to establish themselves in the dance world and beyond. These artist scholars have embarked on opportunities with renowned companies, community outreach, teaching and training, commercial dance and more. Read on to learn about their recent accomplishments.
Company dancers
Many members of the Class of 2020 signed contracts with major dance companies. Ausia Jones is dancing with Les Ballet Jazz de Montréal. Rae Srivastava is a 2020/2021 Emerging Artist with Ballet BC. Jake Tribus is dancing with Gibney Dance in New York City and Rachel Harris is a dancer with Parsons Dance, an international touring modern dance company based out of New York City. Harris, along with fellow alumni Jakevis Thomason and Amaria Stern, will be producing a collective dance project entitled Make Space. Their first installment debuted in October and their second will begin in January 2021.
Whitney Hester now dances with Georgia Dance Theatre as a Leading Artist in Peachtree, Georgia. Currently, she is preparing for the company's Nutcracker performances where she will dance in the role of the Dewdrop Fairy.
Community outreach
Some members of the Class of 2020 have begun working in a community outreach capacity in regards to dance. Amaria Stern is currently the program coordinator for UniverSOUL Hip Hop, an organization that provides hip-hop dance education programs to academic spaces all over Southern California.
Jakevis Thomason has been working with the USC Visions and Voices program. His work was presented during SPARK!, Visions and Voices' 15th annual kickoff event in August. He was also featured in New Leaders Now: Artists Advancing Racial Justice, along with fellow alumna Brianna Mims from the Class of 2019.
Brendan Evans has also been working in an educational realm. He interns with Mindful Strategies LLC where he designs grade school dance curriculum for the Pasadena Unified School District. Evans has also been teaching, choreographing and volunteering with nonprofits since graduation.
Lillie Pincus will also be reaching out to the dance community as she continues her work with Pas de Chit Chat, her USC Kaufman senior project. Pincus aims to create time and space for dancers to participate in open, intimate conversations surrounding dance, currently in the virtual space.
Teaching and training
Other members of the Class of 2020 have taken up various teaching opportunities. Alyssa Myers choreographed for the Utah Metropolitan Ballet in Lindon, Utah. Her work, "Unrest," premiered in a socially distanced, in-person performance as well as virtually this past October. Myers has also been teaching at the studio she grew up going to, Yuma Ballet Academy. So far, she has worked on a choreographic project with their pre-professional company. Myers hopes to finish up a film project in December before moving to New York City in the spring.
Kaylin Sturtevant is currently teaching and choreographing at her childhood dance studio while also working on other projects. She has helped with on-site performances led by New York City-based choreographer, Gregory Dolbashian, who recently relocated to Dallas. Additionally, Sturtevant works as a Pilates instructor after gaining her certification this past summer.
Justin Pham is also using his dance training in a teaching capacity. He joined the faculty for a touring dance convention and has travelled to studios to set guest choreography. Pham also started a company specializing in mentorship and virtual events with fellow alumna Rebecca Troyak from the Class of 2019.
Commercial dance
In the world of commercial dance, Adam Vesperman has been living in Hollywood pursuing various opportunities. He has worked on television shows for Fox and VH1. Vesperman has also been working intimately with top industry choreographers such as Kyle Hanagami, Tessandra Chavez and Brian Friedman.
In a similarly creative space, Olivia Gieringer released her dance film "Positive Anticipation." The work was filmed and edited by USC Kaufman alumnus Adam Agostino, who founded a video production company RYBG along with fellow alumnus Justin Epstein.
Outside of dance
Mariana Carrillo is currently exploring a professional path outside of dance. She recently moved back to her hometown of Cabo San Lucas to join the real estate team at Costa Palmas, home of the Four Seasons and Amanvari resorts. She hopes to potentially host Gala de Danza there. Thanks to Carrillo's connection to Gala de Danza, several USC Kaufman students have had the opportunity to travel and perform at the event.