Spotlight on USC Kaufman hip-hop faculty
October 6, 2020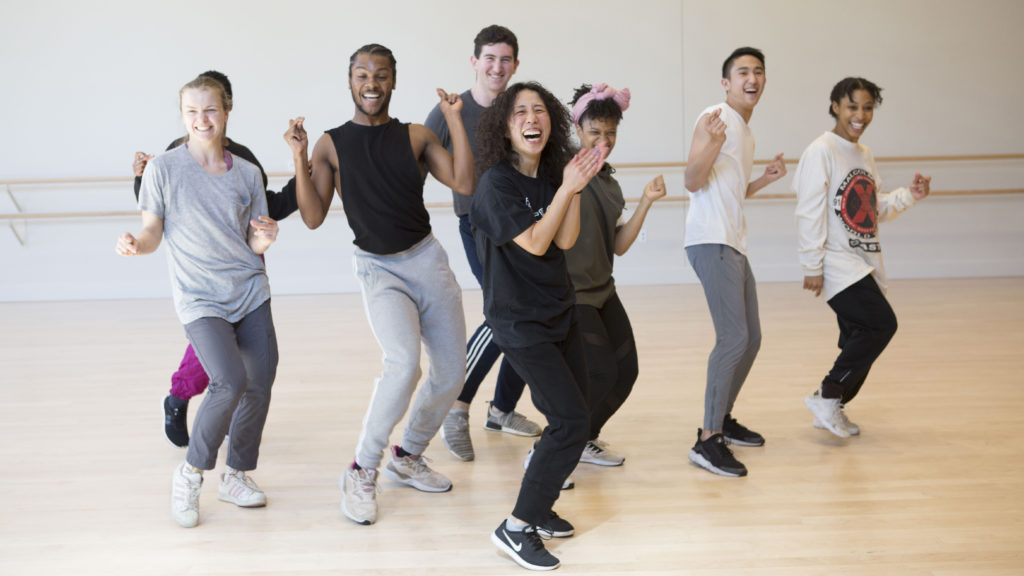 At the USC Glorya Kaufman School of Dance, BFA students study with leading dance innovators in a variety of forms. Read on to get to know some of the hip-hop faculty working with BFA students this semester.
Tiffany Bong
Lecturer Tiffany Bong earned a BA in theatre and dance and a BS in psychology from Santa Clara University. She also has a Professional Designation in Arts Education from the Los Angeles County Arts Commission. Currently, Bong is a master teaching artist for The Music Center. Recently, she was interviewed by Dance Teacher Magazine about the teaching tools she can't live without.
Bong is also the founder and executive director of UniverSOUL Hip Hop. This company focuses on community-based cultural education to brings hip-hop residencies and performances into K-12 school communities in Los Angeles. In addition to this work, she is the Program Director or Kaufman Connections, a community engagement initiative, which provides dance classes to students at the 32nd Street Elementary School. Earlier this year, USC Kaufman hosted its third biennial Cypher Summit with the help of Bong and fellow lecturer Amy O'Neal. The event offers a space for dancers to converge on the preservation of authentic hip-hop dance in education.
Bong will teach a hip-hop class for prospective students during Experience USC Kaufman on Nov. 14 from 12:00 p.m. – 1:15 p.m. PT.
E. Moncell Durden
E. Moncell Durden is an Assistant Professor of Practice at USC Kaufman. Durden teaches both practical and theoretical hip-hop classes in the U.S. and abroad. He is an expert in locking, house, hip-hop, authentic jazz and party dances from 1900 to the present. Durden also founded the organization Intangible Roots. It is dedicated to the education and preservation of Afro-Diasporic social dance forms.
Durden is a member of New York City-based Mop Top Crew and Philadelphia-based hip-hop theater company, Rennie Harris Puremovement. Before coming to USC Kaufman, he taught at Drexel University. A published writer and creator, he has written articles in Jazz Dance: A History of the Roots and Branches and the Encyclopedia of African Cultural Heritage in North America. Durden also developed a documentary called Everything Remains Raw: Hip-Hop Dance in Context. It focuses on the genealogy of hip-hop dance.
This semester, Durden is setting a new work on the Class of 2023. The piece will debut at USC Kaufman's online dance festival, A/Part To/Gather, in November.
d. Sabela grimes
d. Sabela grimes is an Associate Professor of Practice at USC Kaufman as well as a choreographer, composer and educator. He earned both his BA in English and MFA in dance and choreography from the University of California, Los Angeles.
In his dance training, grimes has had a vested interest in the physical and meta-physical effects of Afro-Diasporic cultural practices. He has used his imaginative and innovative mindset to create and cultivate a movement system called Funkamentals. This focuses on the methodical dance training and community building elements evident in Black vernacular and Street dance forms.
Currently, he co-leads USC Kaufman's equity, diversity and inclusion initiatives along with Associate Professor of Practice Patrick Corbin.
Amy O'Neal
Lecturer Amy O'Neal brings her choreographic and dance education experience to USC Kaufman's hip-hop faculty. She earned a BFA from the Cornish College of the Arts, where she was awarded the first Distinguished Alumni Award in 2014.
O'Neal teaches and performs nationally and internationally and choreographs for live performance, dance films, music videos and virtual reality. As a practicing guest of Black dance culture, she has participated in experimental and all-styles battles, co-organized and co-produced Seattle House Dance Project, and developed hip-hop curriculum for the University of Washington. O'Neal relocated to Los Angeles in 2016 and started The Rhythm Assembly, a freestyle techniques class merging the social and exploratory natures of hip-hop and contemporary dance.
O'Neal will teach a hip-hop class for prospective students during Experience USC Kaufman on Oct. 10 from 12:00 p.m. – 1:15 p.m. PT.