Student Blog: Performing Iconic Repertory
September 3, 2021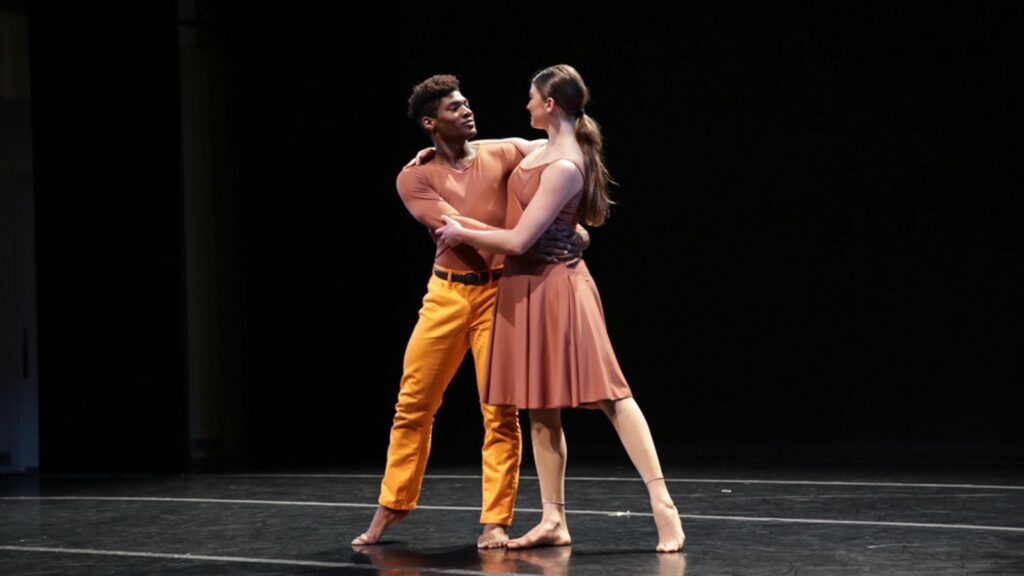 At USC Kaufman, we have the opportunity to enroll in Repertory and Performance. In this course, students learn both established repertoire and the creation process of new works. Each semester varies in what repertory is taught and who is brought in for new creations. This allows us to experience a wide range of movement styles and observe different processes.
Repertory
The opportunity to perform iconic pieces of repertory is incredibly exciting and humbling. Throughout my time at USC Kaufman, I have had the privilege of performing the works of innovators and leaders in the dance field such as William Forsythe, Paul Taylor, Jiří Kylián, Merce Cunningham and Barak Marshall.
During my first semester of Repertory and Performance at USC Kaufman, my cohort and I learned the fifth section of Paul Taylor's Esplanade. Learning and performing Esplanade was the perfect way to start the program. During our contemporary technique classes, my cohort was studying Taylor technique. Therefore, the piece was a wonderful way for us to showcase what we were learning in our contemporary classes. It also allowed us to explore how freedom can exist within form, as Taylor's work requires an immense amount of both clarity and release in the body. I was able to use this knowledge and further explore this piece later in my college career. During the spring semester of my second year, I was lucky enough to perform the entirety of Esplanade. This performance was a collaboration with USC Kaufman, the USC Thornton School of Music and USC Visions and Voices.
I was also able to perform Symphony of Psalms by Jiří Kylián, staged by Artist in Residence Fiona Lummis. This piece, and much of Kylián's work, explores ballet through a contemporary lens. This means the choreography is based in balletic technique, while exploring sensations and aesthetics that contrast classical ballet. It was also so enjoyable working with Professor Lummis. Throughout the process, she created such an enjoyable, safe space to explore and try new ways of approaching the movement.
This upcoming spring semester, juniors and seniors are going to be working on Ohad Naharin's Minus 16 with Professor Bret Easterling. It has been a goal of mine to perform the work of Naharin, so I am very excited for this opportunity. I have taken the Gaga elective course, the codified movement language of Naharin, many times with Professor Easterling here at USC Kaufman. I am excited to use the knowledge gained in that class to inform the way I learn and approach the rep.
Additionally, this year, upper class students will learn the work of Peter Chu and Justin Peck. We are thrilled to have the opportunity to work on this repertory, especially because it is the first time that USC Kaufman students are performing the work of these artists. First and second year students will also have the opportunity to learn and perform Kylián and Taylor repertory this upcoming semester!
New Works
The other exciting aspect of our Repertory and Performance course is being able to be involved in new creation processes. Over the past three years, the Class of 2022 has worked with choreographers Bret Easterling, Hope Boykin, Saleemah E. Knight, Doug Varone and Dwight Rhoden to create new pieces.
Each creation process was unique in movement style and process. With Easterling and Varone, they gave us choreographic tasks which we used to create movement phrases. The choreographers then shaped and revised our material to create the piece. This type of creation process was exciting as it showcased the individuality and strengths of each dancer. During other processes, the choreographer taught us their own material. These processes were also enjoyable because we could dive into movement language and the aesthetic preferences of each choreographer.
This upcoming year, the seniors are incredibly excited and privileged to work with Artist in Residence Jermaine Spivey on a work, which will be livestreamed on November 23. We hope you'll tune in for this performance!
---