Student Blog: Lessons and learning this year
December 19, 2016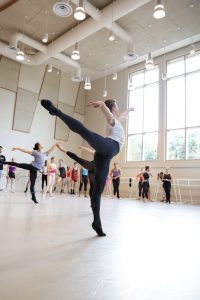 By Celine Kiner
This semester has been such a blur that I could barely keep my eyes focused. Between Fall for Forsythe, our new building, student choreography, and repertory shows, there truly was never a dull moment.
The first thing I learned this semester was how to learn itself–this is an ongoing process at USC Kaufman, beginning freshman year and continuing through sophomore year. In fact, it will most likely continue through graduation, especially with Forsythe as our professor. Learning as a whole has become another experience, including something our professors call whole-body listening. Starting with this approach has entirely changed the way we receive and absorb information, making us acutely aware of our thought, space, and movement. Never before have I stopped to consider the way my hands mimic my feet, the way my arms dictate my leg lines. Now, I not only learn differently but think differently. My foundation in ballet provides a leg on which to stand (I may have intended that pun, a little bit) and conscious thought becomes the center from which I move. It's a new way of thinking, and it's active–it makes me an autonomous artist, making my own decisions whether in improvisation or set choreography.
This type of learning has spread into everything we've done this semester. It made itself especially clear in Focus Forsythe, where we had to be so tuned into our whole-body listening onstage that we could respond immediately to any task professor Forsythe asked of us. In our new building, we've adapted to the space with a movement quality developed only through this newfound sense of kinesthetic awareness. It made my student choreography piece much more interesting: I could communicate more easily with Rachel, who danced the piece, and she was better able to explore the improvisational tasks I gave her. It also allowed her to listen fully to the music written for the piece by our friend (and Thornton student) Madeleine.
Whole-body listening also made us better able to understand each other as a whole at USC Kaufman. Whether between freshmen and sophomores or between students and faculty, it has established a more actively thinking body of dancers within our studios. It enables a more efficient exchange of information in which we can work quickly and productively–it's almost a language. It's allowing us to build our knowledge as a family as we create the New Movement. And as we jump back into classes in January, this language will keep us united in the blur that is the spring semester at USC Kaufman.