USC Kaufman Celebrates Trojan Family Weekend
October 14, 2022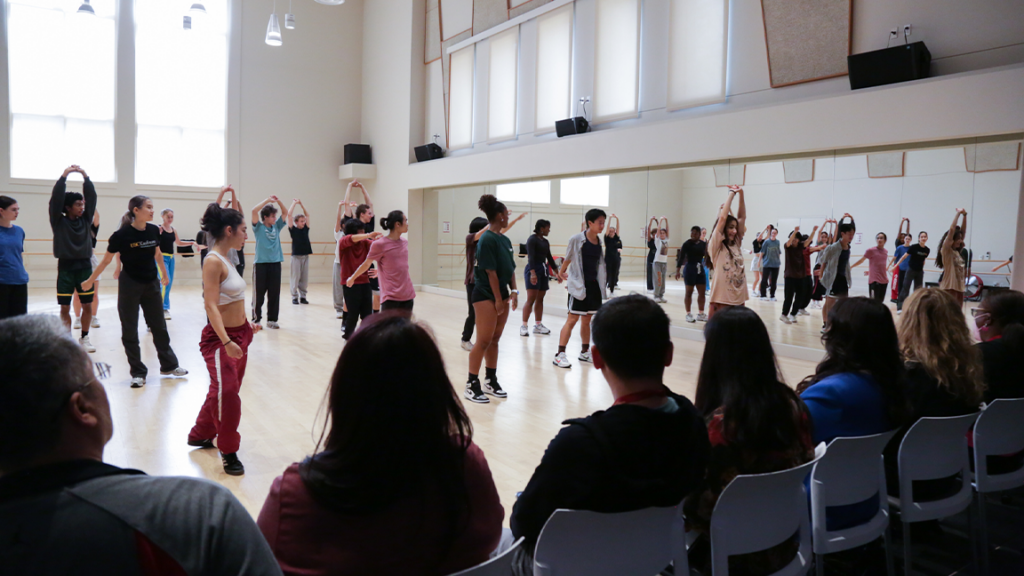 On Oct 6-8, 2022, the USC Glorya Kaufman School of Dance welcomed BFA students' families to campus for Trojan Family Weekend. The weekend was full of events aimed at giving families a peek into life as a USC Kaufman student, as well as celebrating the students' hard work and progress thus far. USC Kaufman also hosted two performances, Cypher Celebration and Fall Works in Progress.
A glimpse into student life
On Thursday morning, parents and family members were invited to observe the BFA students during technique class. First year and second year students were in hip-hop with d. Sabela grimes and E. Moncell Durden, respectively. Third and fourth year students had ballet with Jackie Kopcsak and Fiona Lummis, respectively. Family members had the opportunity to see a bit of the students' daily training at USC Kaufman.
Later in the day, Dean Ritter joined faculty members Saleemah E. Knight, Kopcsak and Durden for a panel discussion. They talked about their work at USC Kaufman and their vision moving forward. Family members were able to ask questions and meet some of the faculty that students interact with everyday.
Student performances
USC Kaufman hosted two performances during Trojan Family Weekend, giving family members the opportunity to watch the BFA students dance. Cypher Celebration presented it's second annual performance. Brought by faculty member Dawn Stoppiello, the performance incorporated real-time video projections. There were three projectors set up and two stationary cameras capturing live footage of the cyphers. A student walked around with a third camera, interacting with the dancers to capture different angles of the movement. This event celebrated black dance practices in a part-performance, part-cypher format. DJ TiffStar provided live music, and production supervisor Spencer Saccoman incorporated everchanging lighting and effects.
Fall Works in Progress showcased the repertory and classwork that BFA students have been working on this semester. Classwork shown ranged from tap and classical Indian dance, both accompanied by live musicians, to excerpts from classical ballet variations. Students also performed excerpts from new works created by Artists in Residence Yin Yue and Peter Chu and USC Kaufman faculty members Jennifer Lott and Knight. These new works are set to premiere in November at USC Kaufman's Fall Dance Performance.
Mingling over food
On Friday morning, Dean Ritter hosted a catered breakfast in the Glorya Kaufman International Dance Center courtyard. Families and students mingled while enjoying food before their first classes of the day.
On Saturday, in a sea of cardinal and gold, students and families met on campus for USC Kaufman's Taco Tailgate. Dressed in game day gear, students and families showed their school spirit in one of USC's oldest traditions. They played games and enjoyed food and conversation before heading to the Coliseum for the football game.