September Special Events
September 20, 2018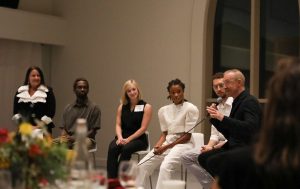 An Evening with William Forsythe
On Sept. 10, USC Kaufman supporters and friends gathered in the Glorya Kaufman International Dance Center for an evening featuring faculty member William Forsythe and Artist in Residence Jermaine Spivey. The evening kicked off with a wine reception in the conference room followed by a seated dinner in the Turquoise Studio.
As guests mingled after dinner, Dean Robert Cutietta officially welcomed everyone, acknowledged USC Kaufman supporters in attendance and introduced Vice Dean & Director Jodie Gates who moderated an informative conversation with Forsythe, Spivey and three students from the inaugural class: Adam Agostino, Brianna Mims and Rachel Walton. The conversation focused around the significance of this year, which will include a performance at The Joyce Theater in New York and the graduation of USC Kaufman's inaugural class, and the importance of USC Kaufman's Artist in Residency program.
The evening concluded with a performance of excerpts from Forsythe's "Vertiginous Thrill of Exactitude," featuring BFA students Zach Manske, Jacqueline Schiffner, Jake Tribus, Madison Vomastek and Megan Yamashita, Crystal Pite's "Ten Duets on a Theme of Rescue" featuring BFA students Brendan Evans and Jessica Muszynski, and Artist in Residence Barak Marshall's "Monger," featuring BFA students Jakevis Thomason and Adam Vesperman.
View more photos of An Evening with William Forsythe
Discover: USC Kaufman Salon in NYC
On Sept. 15, USC alumna Donya Bommer and her husband Scott hosted a salon for USC Kaufman at their Upper East Side apartment in New York City. Over 50 guests from the New York dance world attended, including many supporters and dancers from New York City Ballet, where Donya Bommer serves as a Board Member. Guests included former NYCB principal dancer Wendy Whelan, Tony Award-winning choreographer Justin Peck, as well as a number of USC alumni and parents from the New York area.
Dean Robert Cutietta, Vice Dean & Director Jodie Gates, faculty members Patrick Corbin and d. Sabela grimes, who were in New York for a weekend recruitment trip for USC Kaufman, were also in attendance on behalf of the school. Rounding out the Kaufman contingent were BFA students Mariana Carrillo, Adam Vesperman and Lenai Wilkerson, who performed a brief program for guests in the hosts' spacious dining room.
The event was designed to create awareness for USC Kaufman in the New York dance community and promote the upcoming New York performance by students at The Joyce Theater on February 25, 2019.