Student Blog: Class of 2022 Senior Spotlights
March 2, 2022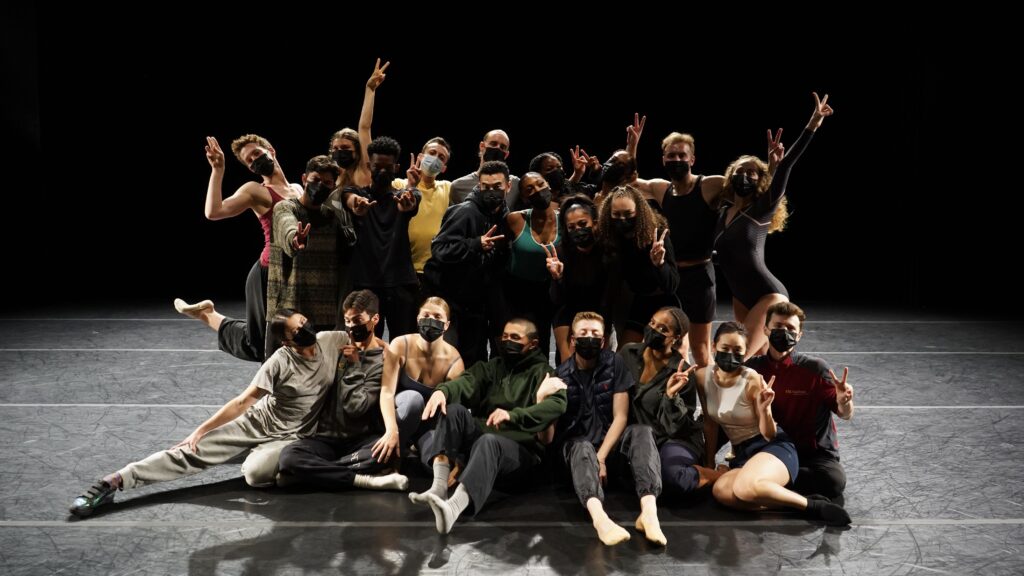 The Senior Spotlights showcase took place on Feb. 19 to highlight this year's graduating class. The show included group pieces, duets and solos of varying styles from ballet to commercial jazz. The Class of 2022 is a distinct group of vibrant dancers who show strengths in various forms, reflecting their personalities and USC Kaufman experiences.
The purpose of this showcase was to invite industry professionals to watch the graduating class in an intimate setting. After the showing, there was a reception to allow dancers and guests to mingle. The reception was an opportunity for the students to network with people in the professional world. It also allowed the guests to meet the dancers on a personal level.
Structure of the showcase
The showcase was packed with various styles, allowing everyone to be featured. One of the first pieces of the show highlighted multiple seniors, staged and partly choreographed by Professor Saleemah E. Knight. The piece titled The Plug included a commercial jazz section, a contemporary fusion excerpt by Lex Ishimoto, some moments of improvisation from seniors and a finale section. Next, more seniors performed solos, some of which were self-choreographed. Other solos featured excerpts of work from Artist in Residence Dwight Rhoden, Artist in Residence Jermaine Spivey, and guest artists Stephanie Troyak, Justin Peck, Kara Wilkes and Peter Chu.
A handful of seniors also performed musical theater excerpts from the Broadway show Catch Me If You Can. There was also a work by Artist in Residence and Emmy Award-winning choreographer Tessandra Chavez. The closing work of this showcase was Our Voices, Currently., choreographed by Artist in Residence Hope Boykin and created in collaboration with the Class of 2022 back in 2019. It was a great closer to the show, full of excitement and beautiful dancing.
Day of the show
The day of the show arrived with high anticipation. After a morning of rehearsal for USC Kaufman's spring show at The Wallis, the seniors returned to the Glorya Kaufman International Dance Center at 6:30 p.m. to get ready for the senior showcase. Because this was an informal showing, the stage was also the warm-up space. As guests rolled in, they saw the seniors getting ready for the performance: stretching, doing some cardio, holding a plank or going over choreography. Once the show was ready to begin, Professor Bruce McCormick made a short speech introducing the show. Then, the dancers took their opening positions.
Following the show, the dancers rushed upstairs to change into professional attire to meet the guests and mingle. Progressively the seniors returned and shook hands with audience members including Olivier Wevers of Whim W'Him, Kenny Ortega, Billy Bell, Linda-Denise Fisher-Harrell of Hubbard Street Dance Chicago, as well as agents from MSA and Clear Talent Group. The night was full of conversations, light snacks and connections being made!
---
By Nina Gumbs (BFA '22)