Class of 2021: Where are they now?
December 3, 2021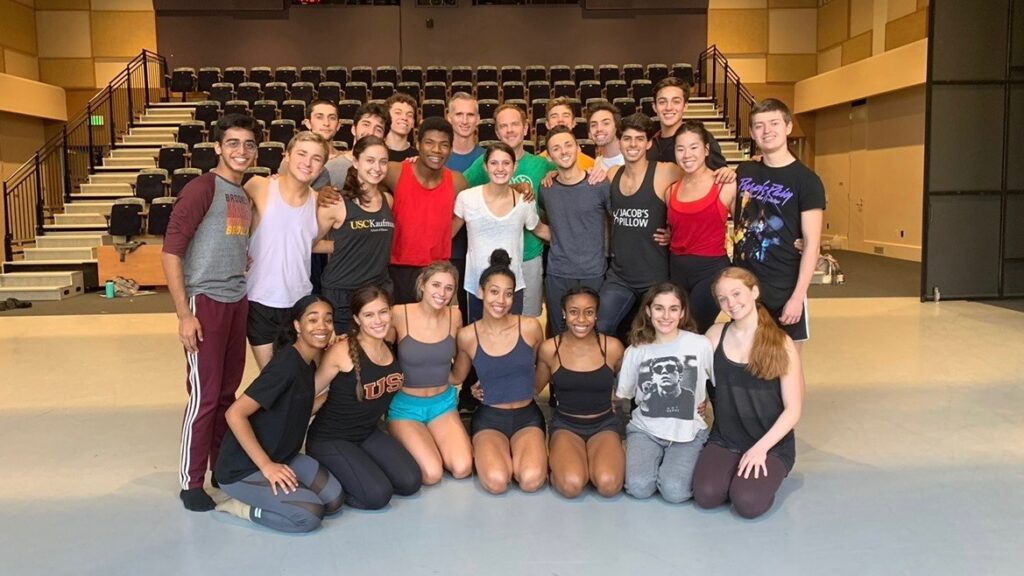 Since graduating in May, the Class of 2021 has begun to establish themselves in the dance world and beyond. These artist scholars have started their own businesses, are pursuing graduate degrees, dancing with renowned companies, working in the commercial dance industry and more. Read on to learn about their recent accomplishments.
Company dancers
Many members of the Class of 2021 signed contracts with major dance companies. Sidney Chuckas and Sidney Ramsey are both dancing at Ballet BC in Vancouver, Canada, along with fellow USC Kaufman alumni Rae Srivastava (BFA '20) and Kaylin Sturtevant (BFA '20). Mariano Zamora González is dancing with Ballet Hispánico in New York, along with alumni Paulo Hernandez-Farella (BFA '19) and Lenai Wilkerson (BFA '19). Juliette Ochoa has also joined alumna Coco Alvarez-Mena (BFA '19) at Oregon Ballet Theatre.
In addition, Zach Manske is dancing at Grand Rapids Ballet. Jainil Mehta is dancing with the Nai-Ni Chen Dance Company in New York. Matthew Perko recently had his premiere with Mainfranken Theater Würzburg, ​​performing work by Dominique Dumais and Kevin O'Day. Alexandra Policaro has been touring and performing with BalletX as a fellow. Evan Sagadencky dances for Ate9 Dance Company, which recently premiered a new creation by Danielle Agami at The Wallis. Simon Schuh began an apprenticeship at ODC in San Francisco. Aurora Vaughan is a dancer with Nimbus2 based in Jersey City, New Jersey. Finally, Camryn Pearson and Shayna Weintraub are both dancing at Ballet X Schwerin in Germany.
Commercial dance
Some students are pursuing opportunities in commercial dance. Chryssa Hadjis and Simrin Player are currently working commercially in Los Angeles. Player recently served as Assistant Choreographer for the CW Black Pack Christmas Special. This featured Taye Diggs, Neyo, Eric Bellinger and Tank. She was also the Associate Performance Producer for the Kelly Clarkson Show Christmas Special.
Began their own businesses
After graduation, some members of the Class of 2021 launched their own businesses that originally came to life during their time at USC Kaufman. Téa Devereaux founded Truly Dedicated, a fitness and lifestyle brand that delivers equipment and training videos for workouts from the comfort of home or on the go. Lennon Torres similarly started her own business called Continuum Community, which aims to provide practical and easy-to-understand resources to consult people on becoming more gender inclusive. Torres is also currently pursuing a Master of Arts degree in Public Relations and Advertising at the USC Annenberg School for Communication and Journalism. Both Devereaux and Torres are also pursuing commercial work at this time.
Academics
Other students are pursuing academics as well. Makayla Bailey is finishing up her studies at USC. Win McCain is also at USC completing a double major in Political Science at the USC Dornsife College of Letters, Arts and Sciences. He is also in the process of self-producing a virtual show. It will be a double-bill of his choreography entitled "RIPE" and will debut in early 2022. In addition, Londyn Alexander is now a graduate student at New York University.