Nutcracker productions this season feature USC Kaufman students
December 7, 2018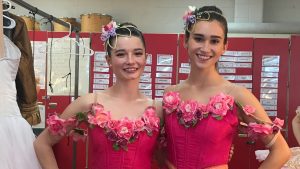 This December, USC Kaufman students will appear in several productions of The Nutcracker in Southern California, Colorado, New Mexico and Texas. Below is more information about their performances in the Tchaikovsky classic.
Three students perform with Aspen Santa Fe Ballet
Three USC Kaufman BFA students, Coco Alvarez-Mena, Juan Miguel Posada and Madison Vomastek will be performing in Aspen Santa Fe Ballet's The Nutcracker. Below are the roles they are performing, as well as the dates and times of the performances.
Madison Vomastek | snow, garland, flowers
Coco Alvarez-Mena | snow, garland, flowers
Juan Miguel Posada | jack-in-the-box
Dec. 8 & 9 | Aspen District Theatre | Aspen, CO
Buy Tickets
Dec. 15 & 16 | Lensic Performing Arts Center | Santa Fe, NM
Buy Tickets
Nutcracker Performances in California & Texas
Three USC Kaufman BFA students, Mariana Carrillo,  Joseph Hetzer and Megan Yamashita will be performing the roles of Arabian, Nutcracker prince/Chinese lead/toy solider, and Spanish/Arabian respectively, with Festival Ballet Theatre at the Irvine Barclay Theatre in Irvine, Calif. from Dec. 8 – 24.
Further up the coast in Thousand Oaks, Calif., another three USC Kaufman BFA students, Zach Manske, Jackie Schiffner and Mariano Zamora Gonalez danced the roles of Cavalier, Sugarplum fairy and the Nutcracker Prince with Conejo Civic Ballet at the Fred Kavli Theatre on Dec. 9.
In addition, BFA senior Paulo Hernandez-Farella will be performing the roles of toy soldier and candy cane soloist in Midland Festival Ballet's The Nutcracker at the Wagner Noel Performing Arts Center in Midland, Texas on Dec. 22 and 23.