Revisiting memorable moments in 2020
December 21, 2020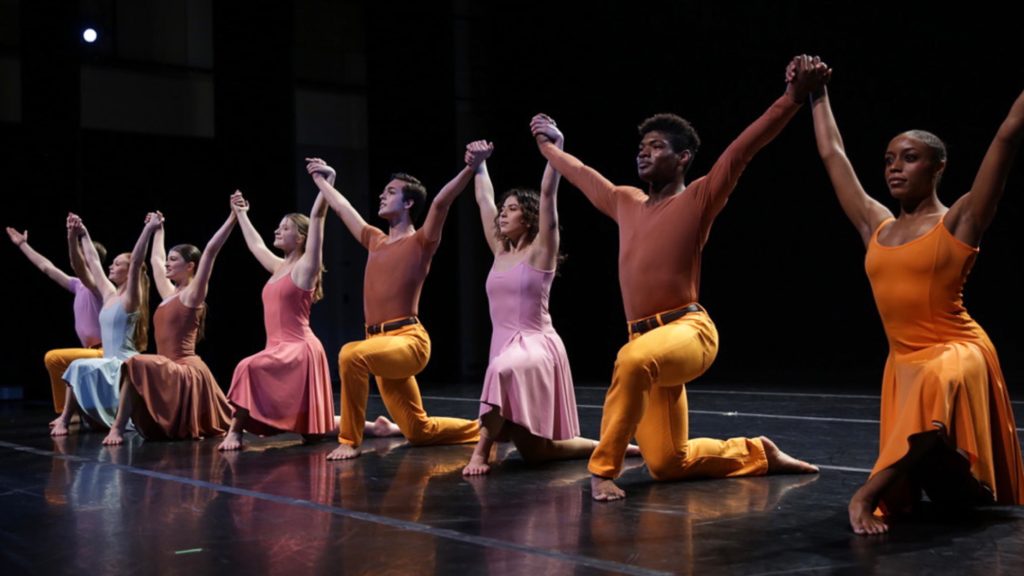 2020 tested the resolve of the entire University of Southern California community. Nevertheless, the USC Glorya Kaufman School of Dance proved to have a busy and successful year. USC Kaufman embarked on a multitude of unique artistic endeavors, despite the world pivoting to the virtual space in March. As 2020 comes to an end, USC Kaufman revisits some of these memorable moments.
Guest artists and Artists in Residence
In the spring of 2020, USC Kaufman welcomed many guest artists to work with their students. Andrew Winghart, a USC alumnus himself, was a guest artist this year and worked with the Class of 2020 and 2021. Winghart was no stranger to the BFAs. In the past, he has not only taught master classes at USC Kaufman, but he has also cast USC Kaufman students in his choreographic works.
USC Kaufman students also participated in master classes throughout the spring semester, including those with Dorrance Dance and Fabrice Calmels. Before USC made the switch to online learning, students worked in the studio with Aszure Barton. They also collaborated with Artists in Residence Hope Boykin, Fiona Lummis and Jermaine Spivey in a virtual setting for their repertory and performance course.
Artist in Residence Desmond Richardson and guest artist Dwight Rhoden, as well as a few USC Kaufman alumni, worked on Rhoden's "RED/THE FORCE" with all BFA classes this fall. Further, Artist in Residence Hope Boykin worked with both the Class of 2024 and 2022. Finally, guest artist Francesca Harper worked with the Class of 2021 to archive this unprecedented time in their dance journeys. Harper and USC Kaufman seniors created a dance film for USC Kaufman's online dance festival A/Part To/Gather.
Visions and Voices
Sean Dorsey Dance: BOYS IN TROUBLE
This year, USC Kaufman continued its partnership with the USC Visions and Voices arts and humanities initiative. On Feb. 8, Visions and Voices debuted Sean Dorsey Dance's "BOYS IN TROUBLE" at USC Kaufman's Large Performance Studio. This piece addressed toxic masculinity and strife within the LGBTQ community from the latter perspective. Zackery Torres (BFA '21), who identifies as gender non-binary, attended the event and praised the company's efforts.
"Sean Dorsey Dance brought nothing but love and inspiration to USC Kaufman. As a gender queer individual it was great to see such intentional advocacy delivered with kindness," they said. Prior to the performances, members of the USC Kaufman community met with Sean Dorsey Dance to discuss gender inclusivity in dance.
Dancing the Archives: Emerging Choreographers and Living History
On Feb. 13, three emerging Los Angeles-based choreographers celebrated the USC Dance History Video Archive Project (DHVA) with Visions and Voices. This event explored materials housed in USC's renowned cultural repositories: the DHVA, ONE Archives, the California Historical Society Collection and the Los Angeles City Archives. The choreographers took this knowledge coupled with the architecture of Doheny Memorial Library to create simultaneous, site-specific dance works for their audiences.
Paul Taylor Celebration: USC Kaufman and USC Thornton perform Esplanade
The Paul Taylor Celebration rounded out the USC Kaufman Visions and Voices events for the 2019-2020 academic year. USC Kaufman dancers performed Esplanade, one of the world's modern dance masterpieces choreographed by Taylor himself, accompanied by USC Thornton School of Music students. Torres was among the BFA students selected to perform in this piece. They appreciated the chance to take their dance history knowledge to the stage.
"Reading about Paul Taylor in dance history courses can't compare to the knowledge received through performing a full length work," Torres said.
Community Events
Cypher Summit
Earlier this year, USC Kaufman hosted its third biennial Cypher Summit on Feb. 29. This event exists as a space for dancers to converge on the preservation of authenticity of hip-hop dance in education. Tiffany Bong, a USC Kaufman lecturer, conceptualized and directed the event with fellow lecturer Amy O'Neal. Through the summit, they wanted to create a celebratory yet conversational approach to integrating hip-hop into the academic world.
"It's important for the community to know that the hip-hop faculty at USC Kaufman are coming from a cultural perspective and are upholding the values of these dance practices," O'Neal said. "We feel passionate about sharing the resources that we have here at this institution, and having open dialogue about what it means to have hip-hop and street dance forms in this institution, and to bring everyone together to share ideas."
Kaufman Connections
Despite moving to online learning, USC Kaufman students continued their outreach work with Kaufman Connections. This program, also directed by Tiffany Bong, introduces elementary school students to the choreographic process with a focus on hip-hop. BFA students lead the program's dance instruction, which was held virtually over Zoom this semester.
Virtual events and performances
Class of 2020 Virtual Celebration
On May 15, USC hosted a virtual celebration for the graduating Class of 2020. Following the University's online conferring of degrees, USC Kaufman celebrated its graduates with a program of video messages, photo slideshows and more. An address from visionary founder Glorya Kaufman concluded USC Kaufman's virtual celebration.
"Your dedication and hard work enabled you to take your natural gifts to great heights. While the world seems upside down, I want to encourage you to be brave and to face the future with courage," she said.
A/Part To/Gather Online Dance Festival
As the fall semester's culmination, students performed and shared original work as part of A/Part To/Gather. The online dance festival celebrated different facets of dance including presentations of student and faculty choreography, as well as student dance films and projects. During the festival's evenings of New Works, USC Kaufman students performed choreography by Artist in Residence Hope Boykin, faculty member E. Moncell Durden, guest artist Francesca Harper and faculty member Saleemah E. Knight.
With the passing of another lively and creative year, USC Kaufman welcomes the coming triumphs and challenges of the next calendar year. No one quite knows what's in store for 2021, but with two unprecedented semesters under their belt, the School of Dance is ready to leap into the new year.
Visiting artists to USC Kaufman are supported in part through generous funding from The Choi Family Artists in Residence Fund.
---
By Brigid Murphy