Curriculum in Focus: Repertory & Performance
October 29, 2019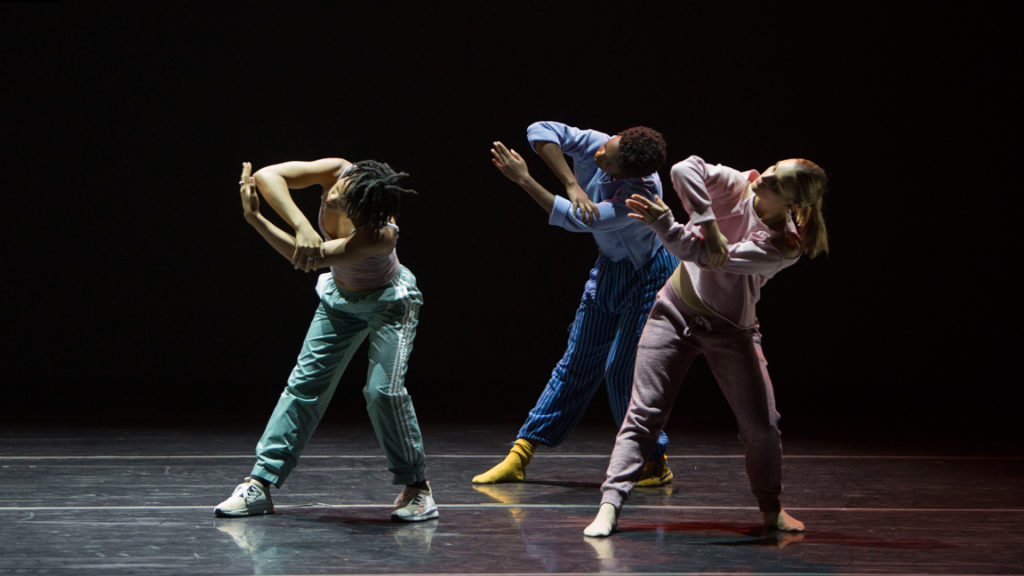 Let's be honest: Performance opportunities are a huge factor when deciding which dance program to attend. In fact, the number one question I get asked from prospective students is, "How many performance opportunities are there at USC?" My response: "A ton." This includes several mid-semester and end-of-semester performances. Then, there are probably eight to ten others—all just for our BFAs. Through our Repertory & Performance course, USC Kaufman students learn and perform a wide variety of repertoire from some of the most profound artists in dance.
All BFA students rehearse during the same Repertory & Performance time slot, three times a week plus two extra lab times (your faculty will schedule rehearsals as necessary). You'll have the opportunity to perform a piece with your cohort, but you can also participate in mixed repertory that features students from all classes. A large portion of this class involves working with the original choreographer or repetiteur of these incredible works. This way, you get to spend time with them in the studio face-to-face. An emphasis on process involves workshopping the movement and learning to truly embody the style.
Works in Progress/Fall & Spring Dance Performances
Halfway through each semester, all BFA students perform the repertory they've been preparing in Repertory & Performance class. In a slightly more informal show with minimal costumes and lighting, dancers perform masterworks by Artists in Residence, guest choreographers, faculty and more. This means that freshmen are able to perform during their first semester at USC Kaufman. Selected BFA student choreography also premieres during a performance called Student Works.
At the end of the semester, friends and family can watch a fully-produced show. Some of the repertory previously performed during Works in Progress is now dressed with full costumes, lighting and production. BFA students perform the masterworks at their full capacity. They'll dance in either the Large Performance Studio at the Glorya Kaufman International Dance Center or at USC's Bing Theatre. Next year, our Spring Dance Performances will take place at The Broad Stage in Santa Monica.
Types of repertory
Core repertory includes masterworks by Paul Taylor, George Balanchine and Jiří Kylián, as well as faculty member William Forsythe. Both faculty and Artists in Residence staging these works worked directly with these acclaimed artists. They are passing down what they learned to our students. It's cool to think that our students are only once removed from some of the biggest legends in dance. And, of course, they get to learn from and play with Mr. Forsythe directly.
They've also danced works by YNOT, Crystal Pite, Barak Marshall and Aszure Barton, as well as two works by Sonya Tayeh. In addition, our students have performed Lickety Split by Alejandro Cerrudo and several pieces by Dwight Rhoden, respectively. And let's not forget the choreography of our own faculty, including Jodie Gates, Jennifer McQuiston Lott, d. Sabela grimes, Moncell Durden and Artist in Residence Victor Quijada. Last year, Bret Easterling created a new work on the Class of 2022. This spring, our stage will see a new work by faculty member Patrick Corbin, as well as one by Artist in Residence Hope Boykin.
Site-Specific and Special Events
Opportunities for special, one-time performances come up often at USC Kaufman. Students have performed in a version of Bill T. Jones' Story/Time through USC Visions and Voices. BFA students participated in Fall for Forsythe in 2016. Faculty member William Forsythe selected dancers to participate in a live installation at LACMA. The students were also featured in a lecture/demonstration in USC Kaufman's Large Performance Studio. This year, our students will take part in a MinEvent as part of the Merce Cunningham centennial celebration, staged by Silas Riener.
Alongside notable companies
Performance opportunities also come up when major companies visit USC Kaufman. BFA students have performed with Hubbard Street II at the USC Fisher Museum of Art as part of Lita Albequerque's 20/20: Accelerando installation. They have also performed Martha Graham's work in a program with the Martha Graham Dance Company at Bovard Auditorium through USC Visions and Voices.
National/International travel
USC Kaufman sent students to Gala de Danza in Los Cabos, Mexico for the last three years. At the event, students performed repertory and commissioned works alongside seasoned professionals. BFA student Jakevis Thomason (BFA '20) presented his own original work at the gala for the first time last year. BFA students have also traveled to Japan to perform at the USC Global Conference, as well as to New York to perform at The Joyce Theater.
University events
This year, USC Kaufman students performed in the USC Arts Showcase at President Carol Folt's inauguration to much acclaim. Our students also danced for the USC Village Opening two years ago, and have performed a few times at USC's Homecoming half-time show (in front of about 70,000 people). BFA students have also performed at the USC Trustee Conference. During this event, USC Trustees convene and enjoy the university's artistic offerings, including excerpts of repertory the students have learned during their time at USC Kaufman.
Upcoming repertory
This year's repertory promises to be just as exciting. Look for works by aforementioned Patrick Corbin, Hope Boykin, RubberLegz, Andrew Winghart and others… (Sorry, but I have to keep some things a secret.)
And then there are the opportunities for students to showcase their work, including mid-semester and end-of-semester. One of our signature spring shows is sophomore year's Choreographers and Composers. This particular performance is a collaboration with students from the USC Thornton School of Music. We're also excited to launch a new signature "performance" focused on dance on film. Stay tuned for more details…
---
By Anne Aubert-Santelli, Assistant Dean of Admission and Student Services