Student blog: Visual and auditory collaborations– USC Kaufman meets USC Thornton and SCA
February 23, 2016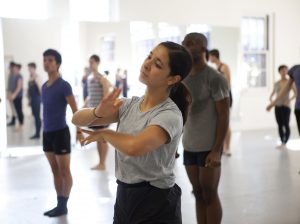 By Celine Kiner
The northwest corner of the USC campus is an artistic center waiting to be connected: along with our beautiful new building, which will be finished this fall, it holds Thornton School of Music and the School of Cinematic Arts, both of which are notorious for their well-crafted programs and curriculum. Having made multiple friends on this side of campus and being thoroughly impressed by all of their talents, I found myself itching to collaborate in and combine our respective mediums. A few simple clicks and the power of the Internet united these people under the roof of PED 207 on Saturday evening, in a more perfect session of improvisation than I ever could have choreographed.
A corner of the room housed my good friends and students of USC Thornton, Ellis (a Music Production major) and Mallory (a Popular Music major). They set up their instruments, Ellis his electronic keyboard and Mallory her guitar, and created a richly stimulating environment for the dancers' creative juices to flow: Mary, Stephanie, Alyssa, Austyn, Mark and I, along with our friends Damaris, Rachelle, Scott, and Madison, allowed the spontaneity of the music to translate through our movement. The natural light through the windows filled the room just enough that bodies' silhouettes were outlined, and we were happily forced to communicate through our art rather than just our sight. There were no pressures to perform: there was only art in the presence of art.
Music isn't the only domain accessible for collaboration here. WT, a friend of mine in the School of Cinematic Arts, shot a video of Stephanie and I improvising in the beautiful USC scenery last weekend. Many USC Kaufman majors have been involved in video shoots with film majors, and a few of us have even choreographed for these videos. In reflecting on Saturday's session and last weekend's video shoot, I have been reminded the vast pool of resources within the university that are simply waiting to be utilized. The northwest corner of campus isn't the only one available for collaborations; it's only the nearest to reach for. There are so many fields waiting to be integrated with ours, and we may not even have to look for them–we may walk past them every day as we walk to class.
---
By Celine Kiner