USC Kaufman's BFA Class of 2019: Where Are They Now?
December 6, 2019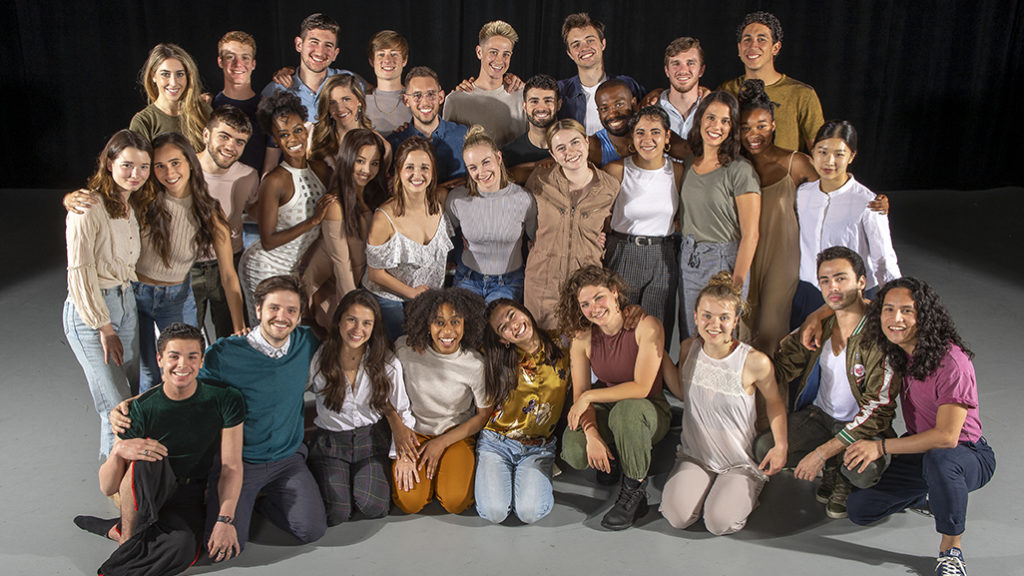 Since becoming the first cohort of BFA dance majors to graduate from the USC Glorya Kaufman School of Dance, members of the Class of 2019 have started to establish themselves in the dance industry and beyond. These artist scholars have secured company contracts with major dance companies, performed internationally, self-produced projects, pursued various interests and more. Read below for some of their recent accomplishments.
Company dancers
Recent contracts placed Class of 2019 members Megan Yamashita at Complexions Contemporary Ballet in New York, Alvaro Montelongo at Alonzo King LINES Ballet in San Francisco, Jessica Muszynski at RUBBERBAND in Montreal, and Alyssa Allen at Hubbard Street Dance Chicago.
Coco Alvarez-Mena is dancing with Oregon Ballet Theatre, Jackie Schiffner at BalletMet in Ohio, and Joseph Hetzer at Oklahoma City Ballet. Additionally, Lenai Wilkerson and Paulo Hernandez-Farella are touring with Ballet Hispánico.
Madison Vomastek and Satori Folkes-Stone joined the cast of Broadway's West Wide Story revival. They begin previews Dec. 10 with an opening in February 2020.
Commercial work
Aidan Carberry and Jordan Johnson's choreographic collective, JA, was recently nominated for a World Choreography Award for their choreography on half•alive's "still feel" music video. The duo continue to tour with the band, and are also preparing for a full-length evening at the Odyssey Theatre in 2020.
Rebecca Troyak will be a full-time performer in Tyra Banks' ModelLand, where she will be part of the inaugural cast of the live, immersive experience show.
Mark Daftari was featured in Todrick Hall's music video for "Nails, Hair, Hips, Heels," as well as Sam Smith's video for "How Do You Sleep," choreographed by Parris Goebel. He also landed a spot on Idina Menzel's "I've Got My Love to Keep Me Warm feat. Billy Porter" music video.
Multifaceted curators
Austyn Rich premiered work at REDCAT's New Original Works festival, curated performance event BITE at Vortex LA, and will present work with Davia Spain at Highways Performance Space in December. Brianna Mims relaunched her #jailbeddrop installation, a reiteration of her 2019 senior project, with Reform L.A. Jails.
International travel
Rachel Walton just finished work with William Forsythe on a collaborative installation project Acquisition/Körperschaft at Museum Folkwang in Essen, Germany. Upon her return to Los Angeles, she will resume work with several dance companies.
After performing on the Netflix show GLOW and with LA Contemporary Dance Company in EBB in 2019, Olivia Euritt signed a contract with Royal Caribbean Cruise Lines. Currently, she is dancing and traveling throughout Asia.
Freelance artists
Helen Gratch, Stephanie Dai, and Sophia Oddi continue to teach and dance both in concert and commercial works in Los Angeles. Ardyn Flynt is doing the same, plus battling in the local hip-hop community.
Adam Agostino has made several freelance films. His recent documentary Breaking Rules on blossoming choreographers at USC Kaufman will soon be released. Justin Epstein sound-engineered a piece that NPR picked up, and released his first EP, SandBox, on streaming platforms. Mary Mallaney received her Level 2 Reiki Master certification. She is now working locally as a freelance photographer, capturing dance and more. Beau Foley works in theater management at USC's Bovard Auditorium with Trojan Event Services. Celine Kiner is currently writing for Los Angeles Dance Chronicle and DIYdancer Magazine, while managing print and digital media at the USC School of Dramatic Arts.
Trevor Daw joined Alejandro Cerrudo's team for creating new works, worked with Kenny Ortega on the Wynn Hotel project. He also appeared in commercials for Spotify and others. Fresh from a summer at the London Academy of Music and Dramatic Arts, Brandon Carpio recently returned to Los Angeles to pursue dancing and acting alongside classmate Juan Miguel Posada Penagos. Posada Penagos most recently performed in Aspen Santa Fe Ballet's The Nutcracker and worked with Jacob Jonas The Company on Kanye West's opera, Nebuchadnezzar.
Dylan Balka is working in New York with Pony Box Dance Theater, as well as choreographing and dancing in a number of other freelance projects. Noah Guthier has also relocated to New York. As he familiarizes himself with the city, he has discovered an interest in pursuing education as a career.