USC Kaufman's Year in Review: 2021
December 17, 2021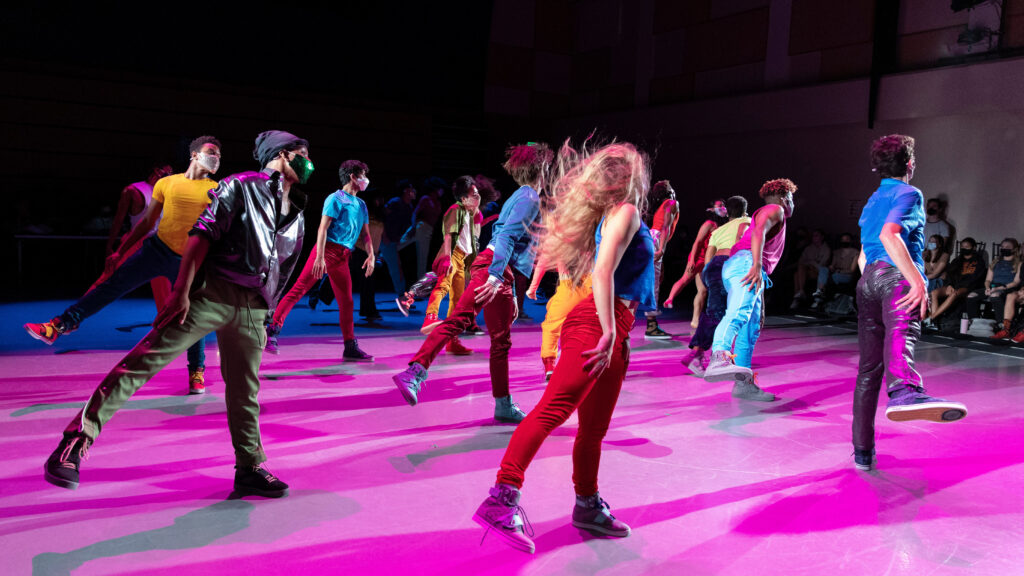 2021 was an unprecedented year as the USC Glorya Kaufman School of Dance continued to navigate the safety measures accompanying the COVID-19 pandemic. The year began virtually and then transitioned to in-person learning for the fall semester. All year, the BFA students worked hard with many exciting performances both virtual and in person. As 2021 comes to a close, look back at some of these incredible moments.
Spring 2021
New Artists in Residence and Faculty
In Spring 2021, USC Kaufman welcomed three new Artists in Residence, Dwight Rhoden, Micaela Taylor and Doug Varone. BFA students worked with these artists virtually, learning choreography over Zoom. All three Artists in Residence collaborated with the students on pieces, which premiered in New Works+. This performance was part of USC Kaufman's Spring 2021 virtual dance festival, A/Part To/Gather.
USC Kaufman also announced Kyle Abraham as the new Claude and Alfred Mann Professor of Dance. This endowed professorship, a part-time faculty position for an internationally acclaimed artist, is an extremely high honor. In his position, Abraham will teach, stage and create work for the BFA students over the next five years.
A/Part To/Gather: Spring Virtual Dance Festival
USC Kaufman put together three weeks of dance with the virtual festival A/Part To/Gather. This event showcased material BFA students worked on all semester, including work with Artists in Residence, faculty and student choreographed pieces. Students pushed their creativity in a virtual format, creating dance films. The festival consisted of several different shows, including Freshmen Choreography Showing, Advanced Composition Showing, Senior Project Presentations, Choreographers and Composers, Video Stage and New Works+.
Virtual Celebration and Commencement
At the end of the Spring 2021 semester, USC Kaufman hosted a Virtual Celebration to celebrate the Class of 2021. Dean Robert Cutietta and visionary founder Glorya Kaufman shared video messages, along with two of the graduating students. Families shared photos and videos, and looked back at performances from the students' time at USC Kaufman. USC also hosted several in-person commencement ceremonies at the Los Angeles Coliseum for both the Class of 2020 and the Class of 2021.
Summer 2021
Summer Bridge Program
After a year of virtual instruction, USC Kaufman opened up its doors again at the end of Summer 2021. To help the BFA students transition back to in-person learning, USC Kaufman hosted the Summer Bridge program. It was three weeks of dance technique classes, conditioning and creative time. In keeping with The New Movement, Summer Bridge had a hybrid schedule with classes of all forms taught by USC Kaufman faculty.
Fall 2021
New Faculty and Artists in Residence
In Fall 2021, USC Kaufman welcomed six new faculty members. Molly Bogunovic and Ebony Haswell Frazier are teaching ballet, and Grasan Kingsberry is teaching the musical theater courses. Jason Rodgers is a new tap dancing teacher, and Danté Rose is teaching hip-hop, breaking and house dance. Rosanna Tavarez is teaching contemporary and Countertechnique courses.
USC Kaufman also announced new Artist in Residence Penny Saunders, who created a new work with the Class of 2023. This piece, titled Dichotomy, premiered in a livestream performance this fall.
Fall 2021 Welcome Week
The incoming Class of 2025, as well as the Class of 2024, were invited to attend USC's New Student Convocation led by USC President Carol L. Folt. Afterwards, BFA students attended an outdoor reception where they met with USC Kaufman Dean Robert Cutietta.
The following day, USC Kaufman hosted the BFA Dance Party in the Glorya Kaufman International Dance Center courtyard. The theme of the event was Hollywood, and the students came in glitzy, glamorous outfits.
Concluding the welcome festivities was the Wellness Fair. During this event, BFA students met with different specialists, including a physical therapist, occupational therapist, physician, psychologist and nutritionist. There were also mindfulness classes and Pilates classes for the students.
Guest Artists
Throughout the fall 2021 semester, students worked with several guest artists. These masterclass instructors included Patricia Delgado, Julian Ramos, Pablo Piatino and Victor Quijada. In addition, members of the Class of 2022 and the Class of 2023 learned solos choreographed by Toyin Sogunro, Peter Chu and Kara Wilkes, to be performed and filmed for their dance reels.
Events
USC Kaufman hosted many in person events during the fall semester. In October, Dance as Radical Self-Care was presented in conjunction with USC's Visions and Voices. This event emphasized building community and well-being, with guided movement workshops by USC Kaufman faculty d. Sabela grimes and Bret Easterling. There was also a performance by BFA students and alumni.
USC Kaufman students had the incredible opportunity to perform for NBC Sports' LA Fan Fest. NBC came to USC to film the dancers, and the video was aired for the opening of the Premier League.
USC Kaufman students took a field trip to Pilobolus' Umbrella Project (UP!) at The Music Center. During this creative experience, participants were given lighted umbrellas and explored the performance space. Their movements were recorded from a bird's-eye view and projected on a screen in real-time.
Performances
Fall 2021 marked a return to in-person performances, and USC Kaufman hosted an incredible roster of events.
Professor Patrick Corbin and Lecturer Amy O'Neal collaborated with the Classes of 2024 and 2025 for Fall New Works. Corbin and O'Neal decentralized the audience for this performance, having them sit among the performance space in a club-like atmosphere. This audience-performer relationship was also fostered during USC Kaufman's first-ever Cypher Celebration, a performance centering hip-hop and Black dance practices. This event brought the cypher, where dancers gather in a circle and take turns freestyling, to a performance stage.
USC Kaufman also hosted two livestreams: Dichotomy by Artist in Residence Penny Saunders and THE ASSOCIATED by Artist in Residence Jermaine Spivey. Saunders' piece employed an overhead camera that showed a bird's eye view of the dancing. Spivey's work included multimedia and real-time video projections to show the dancing from multiple angles simultaneously.
In addition to these performances, USC Kaufman presented student work and choreographic processes in its Sophomore Choreography Showing and Advanced Composition Showing. USC students from a variety of majors showcased what they learned in their elective dance courses in the Elective Experience. BFA students also presented course material during USC Kaufman's End of Semester Showing, which featured work from the BFA students' technique classes, as well as Repertory and Performance.
Next year will be another exciting year at USC Kaufman, stay tuned and Dance On!
---
By Hannah Doerr