USC Kaufman's Year in Review: 2019
December 17, 2019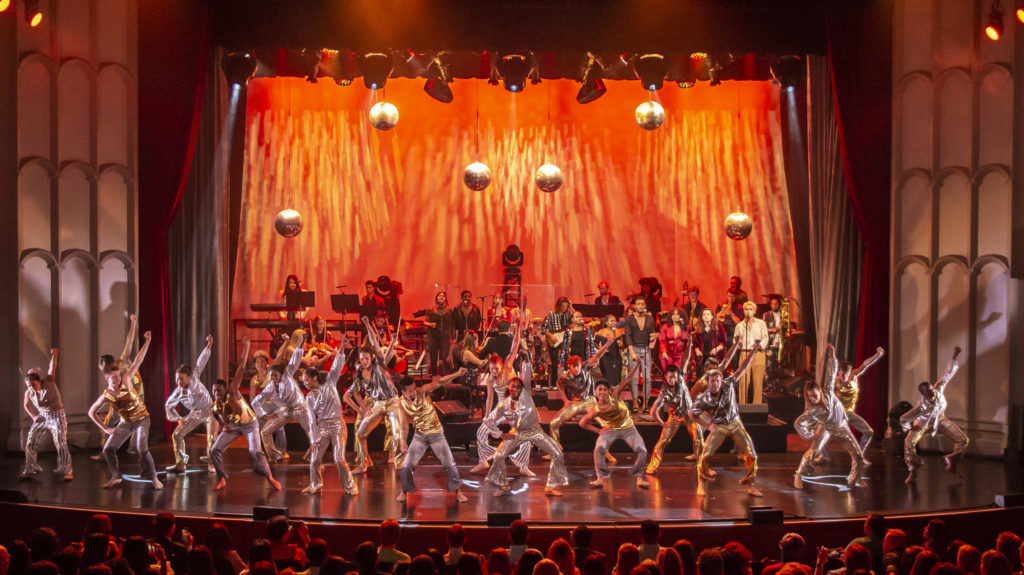 2019 was a monumental year for the USC Glorya Kaufman School of Dance. From the school's NYC debut and graduating its first class of students, to performing at USC's Presidential Inauguration and welcoming the Class of 2023, there was no shortage of exciting events.
As 2019 comes to an end, we have compiled USC Kaufman's Year in Review to look back at each of these amazing moments:
Spring 2019
Artists in Residence and new works
During the spring semester, USC Kaufman students had the opportunity to work with several Artists in Residence. These included choreographer Aszure Barton, who set her work "BUSK" and Victor Quijada, the founder of RUBBERBAND, who has taught the RUBBERBAND Method to BFA students since 2014. Additionally, faculty member and choreographer Bret Easterling created a new work "Whelm" with the Class of 2022.
Performances
BFA students had many opportunities throughout the semester to perform repertory, both new and old. USC Kaufman's NYC debut at The Joyce Theater in February was a milestone event, featuring works from today's leading choreographers including USC Kaufman faculty members and guest artists. BFA students performed at the 2019 USC Trustee Retreat in Santa Barbara. Additionally, in April, several BFA students traveled to Los Cabos, Mexico to perform at Gala de Danza. They performed Barak Marshall's "Monger" and Jakevis Thomason's (BFA '20) "Black Lake."
Back in Los Angeles, BFA students performed works choreographed by faculty members William Forsythe, Jodie Gates and d. Sabela grimes; Artists in Residence Aszure Barton and Barak Marshall; as well as Crystal Pite and Dwight Rhoden at the Director's Showcase. The Class of 2021 showcased original works created in collaboration with the USC Thornton School of Music at the third-annual Choreographers & Composers concert.
Each class of BFA students came together at the end of the semester for the Spring Dance Performance at USC's Bing Theatre. Presented by both USC Kaufman and USC Visions and Voices, this show featured new and classical dance works by George Balanchine, Alejandro Cerrudo, Bret Easterling, William Forsythe, d. Sabela grimes, Jiří Kylián, Barak Marshall and Crystal Pite. Finally, USC students from different schools showcased what they learned during their elective dance classes at our Spring Elective Experience.
Commencement
The semester concluded with USC Kaufman graduating its first class of BFA students. In addition to opening remarks from Dean Robert Cutietta, Vice Dean and Artistic Director Jodie Gates and visionary founder Glorya Kaufman, Ardyn Flynt (BFA '19) gave a poetic student address. Internationally-acclaimed dancer Mikhail Baryshnikov delivered the ceremony's keynote address.
Summer 2019
Paris Maymester
Summer kicked off with USC Kaufman and USC Thornton students traveling to France for the 2019 Paris Maymester program. The students were joined by USC Kaufman's Assistant Dean of Admission and Student Services Anne Aubert-Santelli, USC Kaufman faculty member Jackie Kopcsak and USC Thornton faculty member Rotem Gilbert. The cohort enjoyed seeing performances by companies such as NDT2, interacting with Parisian salon culture, creating their own collaborative works and more.
New Movement Residency
Concurrently, the 2019 New Movement Residency took place at the Glorya Kaufman International Dance Center. This year's artists included Marissa Osato, Micaela Taylor and Tony Testa. During the residency, Osato explored her evening length work that investigates Japanese Americans caught between two cultures; Taylor worked on a piece that unfolds an individual's ever-changing relationship to self; and Testa worked on a submission to choreograph the 2022 Olympic Winter Games in Beijing.
Summer Intensives
Additionally, USC Kaufman hosted three summer intensives through partnerships with Paul Taylor American Modern Dance, Complexions Contemporary Ballet and GAGA USA.
Fall 2019
Welcome Week and the Presidential Inauguration
The fall semester began with USC Kaufman welcoming the Class of 2023. Welcome Week included events such as USC Kaufman's Meet the Dean event, where students and their families had the chance to meet with Dean Robert Cutietta, as well as Vice Dean and Artistic Director Jodie Gates. Students also attended USC's New Student Convocation in Alumni Park and enjoyed a dance party at the Glorya Kaufman International Dance Center.
Soon after, the Classes of 2021 and 2022 started rehearsal for the USC Arts Showcase. This performance event, which highlighted each of USC's arts schools, came as part of the special programming surrounding the inauguration of USC's 12th president, Carol L. Folt.
Working with faculty and guest artists
As in the spring, USC Kaufman's BFA students worked with several world-renowned artists this fall. The Class of 2023 enjoyed their first opportunity to get in the studio with faculty member William Forsythe. In addition to working with the Class of 2020 and the Class of 2021 on previous works, Artist in Residence Barak Marshall set his new work "Wonderland" on the Class of 2022. Underclassmen also had the privilege of learning Merce Cunningham's technique and repertory from Merce Cunningham dancer and educator Silas Riener. Additionally, the Classes of 2020 and 2021 worked with b-boy Rauf "RubberLegz" Yasit on a new piece titled "Vortices."
Performances
This semester also came with many performance opportunities for USC Kaufman's BFA students. In November, as part of the Merce Cunningham centennial celebration, USC Kaufman presented the "USC Kaufman MinEvent," an uninterrupted sequence of excerpts of works by Merce Cunningham. Silas Riener arranged and staged this MinEvent on the BFA students, who performed the work in the courtyard of the Glorya Kaufman International Dance Center and later at the Laguna Art Museum in Orange County.
Furthermore, eight BFA students performed Barak Marshall's "Monger" at the 2019 World Choreography Awards in honor of Glorya Kaufman, who received their Next Frontier of Dance Governance Honor.
At the end of November, BFA students showcased their original work at the Sophomore Choreography Showing and Fall Student Works performances. BFA students also performed works choreographed by George Balanchine, Merce Cunningham, William Forsythe, Barak Marshall, Crystal Pite and Rauf "RubberLegz" Yasit during USC Kaufman's Fall Dance Performance.
During the last week of classes, several BFA students performed in USC Visions and Voices: Activated Chambers. USC Kaufman also presented the Fall Elective Experience, which featured a variety of USC students performing choreography they learned during their elective dance classes.
Next year looks to be another exciting year for USC Kaufman as the school makes its debut at The Broad Stage in Santa Monica. Tickets for these performances, which take place April 17 – 19, 2020, are on sale now.
---